Rangers sign both 1st-round picks from draft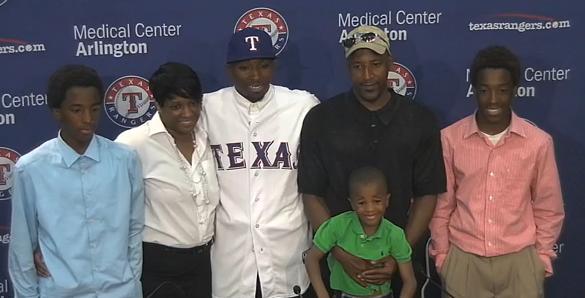 ARLINGTON, Texas (AP) — The Texas Rangers have signed both of their first-round picks from last week's amateur draft.
Right-handed pitcher Alex "Chi-Chi" Gonzalez and high school shortstop Travis Demeritte completed physicals Monday and have signed their contracts.
Gonzalez, the 23rd overall pick out of Oral Roberts, gets a $2,215,000 signing bonus, slightly above the slot value of $1,920,600.
Demeritte, selected 30th out of Winder-Barrow High School in Georgia, receives $1.9 million, just above the slot value of $1,731,200. The Rangers received the pick as compensation when Josh Hamilton left to sign with the Los Angeles Angels.
Gonzalez was 9-5 with a 1.83 ERA in his final season at Oral Roberts. He struck out 126 in 113 1-3 innings. He was assigned to Class A Spokane.
Demeritte hit .404 with 12 home runs and 37 RBIs as a senior at Winder-Barrow. He's headed to the rookie-level Arizona League.
Texas also signed its second-round pick, right-hander Akeem Bostick from West Florence High School in South Carolina. The 18-year-old Bostick, the 62nd pick overall, gets $520,600, below the slot value of $899,400. He was assigned to the Arizona League.
The Rangers have agreed to terms with nine of their first 10 draft picks.