Clemson vs. UGA Highest Rated Game Of Opening Weekend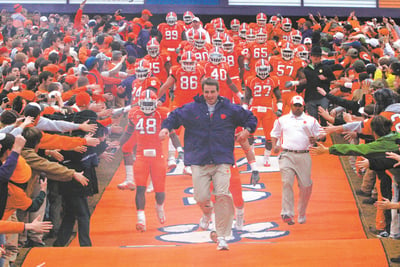 Clemson, SC (CU SID) — The Clemson vs. Georgia football game televised by ABC last Saturday was the most watched game of the opening weekend of college football with a 5.0 Nielsen rating and an estimated audience of over 8.14 million people.
The 5.0 rating was the highest on the opening weekend for the ABC network since 2006 when a Notre Dame at Georgia Tech game drew a 5.6 rating.
Additionally, the game ranked sixth in the top 10 most watched television programs for the week and lifted ABC to second place behind CBS in the weekly ratings.
The telecast was just behind "60 Minutes" which had 8.36 million viewers.
The Clemson vs. Georgia game was the highest rated football game by far for the opening weekend. The Alabama vs. Virginia Tech game was second with a 3.1, followed by the Rice at Texas A&M game with a 2.9.
Last year Clemson played four of the top eight highest rated games involving ACC teams, including the win over LSU in the Chick-fil-A Bowl on ESPN. That game drew a 4.8 rating and 8.6 million viewers.
Clemson won the battle of top 10 teams, 38-35.
Most Watched Television Programs August 26-September 1
Rank, Show, Network, Viewers:
1. Under the Dome CBS 11.12M
2. America's Got Talent NBC (Wed.) 9.85M
3. America's Got Talent NBC (Tue.) 8.70M
4. NCIS CBS 8.47M
5. 60 Minutes CBS 8.36M
6. Clemson vs. Georgia ABC 8.14M
7. Unforgettable CBS 6.94M
8. Big Brother 15 CBS 6.36M
9. Master Chef Fox 6.33M
10. Duck Dynasty A&E 6.30M