Alshon's TD Helps Bears Beat Packers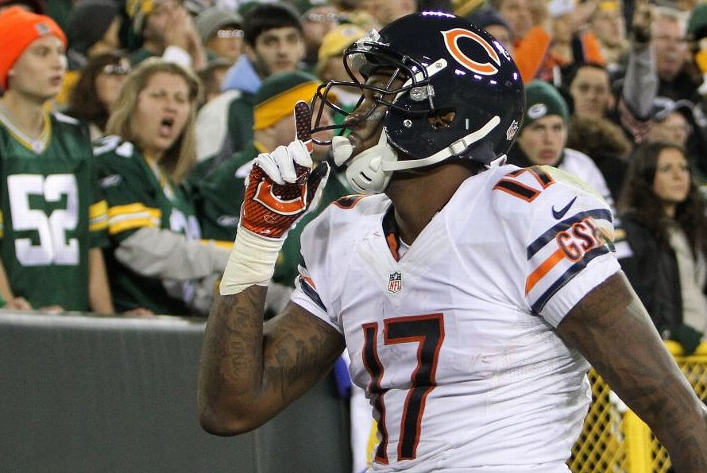 "He has a shoulder injury," Packers coach Mike McCarthy said. "They want to run more tests. They don't have an exact diagnosis. We'll have more information, probably tomorrow."
Pressed for more information, McCarthy insisted there wasn't any.
"No timeline, no exact diagnosis," he said. "That's where we're at."
Former Gamecock and Calhoun County High School standout Alshon Jeffery had five catches for 60 yards, including a 6-yard grab for the go-ahead touchdown at the end of the third quarter. Brandon Marshall, largely shut down in two games against Green Bay last year, had seven catches for 107 yards and a score. Matt Forte ran for 125 yards and a TD, and also had 54 yards receiving for the Bears, who pulled into a three-way tie for first in the NFC North with Green Bay and Detroit. All are 5-3.
The loss spoiled another big night by Green Bay rookie Eddie Lacy, who ran for 150 yards and a touchdown.
"It'd be hard to find one better than this," said McCown, who was coaching high school when the Bears signed him two years ago. "They're all special, but this is really neat because it means so much to our team."
Green Bay has been hit hard by injuries, with James Jones (knee) returning Monday night after a two-game absence and sackmaster Clay Matthews (thumb) and tight end Jermichael Finley still out. Wide receiver Randall Cobb (leg) is also on the injured list-designated to return, and offensive lineman T.J. Lang (concussion) and linebacker Andy Mulumba (ankle) left the game.
But there are injuries and then there are INJURIES, and a hurt Aaron Rodgers is Green Bay's ultimate nightmare.
With the 2011 NFL MVP almost as durable as predecessor Brett Favre — he hasn't missed a game due to injury since Dec. 19, 2010 — the backup quarterback has been little more than an afterthought in Green Bay.
"Aaron's a huge part of our offense," McCarthy said. "This is a thing that's been built over time with Aaron as the centerpiece. I don't think it's realistic to put anyone in there and expect him to perform (like Rodgers)."
But as the Bears know all too well, insurance policies are worth every penny when you need them.
After a series of forgettable backups under Lovie Smith — Caleb Hanie or Jonathan Quinn, anyone? — the Bears signed McCown when Cutler was hurt two years ago. He played well enough then to stick around, and his familiarity with his receivers and coach Marc Trestman's system was evident. McCown may not have been dazzling, going 22 for 41 for 272 yards. But he mixed his passes effectively to Marshall, Jeffery and Forte, and Forte ran roughshod on the Green Bay defense.
"You understand the nature of the game and the impact that (Rodgers) has on the game," McCown said. "So when that player's not on the field, your odds of winning probably increase."
Better yet, McCown didn't do anything to hurt the Bears, which is more than Wallace can say.
Wallace hadn't played a game since the 2011 season finale, and the rust was evident. He was intercepted on his very first series by Julius Peppers and was sacked twice, once by Peppers and once by McClellin. The Packers had a second-and-goal from the Bears 5 late in the third quarter and were forced to settle for Mason Crosby's 23-yard field goal after Wallace overthrew James Jones and Andrew Quarless. Green Bay would get no further than the Bears 39 the rest of the game.
Wallace finished 11 of 19 for 114 yards.
"Seneca, he needs to perform better and he'll definitely do that with a week of practice," McCarthy said.
Copyright by STATS LLC and The Associated Press