Bulldogs Lose Big At Michigan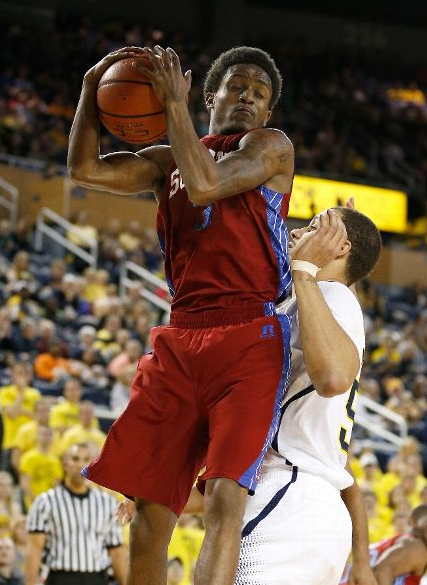 ANN ARBOR, MI (AP) — Caris LeVert never scored more than nine points in a game as a freshman.
The Michigan guard surpassed that in under 9 minutes against South Carolina State on Tuesday night.
LeVert made his first five 3-point attempts, and the seventh-ranked Wolverines had a terrific night from beyond the arc, breezing to a 93-59 victory. LeVert finished with a career-high 24 points and said he couldn't recall the last time he had a stretch of shooting like this.
"I can't remember having five 3s in that short amount of time," LeVert said. "It was probably the first time, really."
It was certainly the first time since he arrived at Michigan.
LeVert was a role player for last season's Final Four team, coming off the bench to provide an occasional lift defensively with his wiry 6-foot-6 frame. He's started the first two games this month and been much more aggressive at the offensive end.
"He is a nightmare on closeouts," Michigan coach John Beilein said. "If somebody's got to go get to him, he can shoot it in or go by you."
LeVert went 6 of 7 from long distance. Fellow sophomore Nik Stauskas added a career-high 23 points — he was 5 of 6 from 3-point range.
"They were kind of playing a matchup zone — I don't really know what they were in," Stauskas said. "It was kind of crazy at times, because we didn't know whether to run a man offense or a zone offense. We were just penetrating and kicking out, and we were getting a lot of open shots."
The Wolverines (2-0) were again without star big man Mitch McGary, who has been out with a back problem.
Jordan Smith scored 19 points for South Carolina State (1-2).
Michigan, which scored only 69 points in a season-opening win over UMass-Lowell last week, led 59-23 at halftime Tuesday after going 12 of 19 from 3-point range. The Wolverines finished 15 of 28 from beyond the arc.
LeVert scored 17 points in the opener, and he matched that in the first half against South Carolina State. LeVert made five 3-pointers in the first 8:18, helping Michigan to a 27-10 lead. Glenn Robinson III dunked along the baseline moments later, and the Wolverines were never really threatened.
Stauskas was outstanding as well in the first half, making all six of his shots, five from beyond the arc. He also had 17 points at halftime.
The Bulldogs did manage to contain Spike Albrecht, Michigan's backup point guard. Albrecht came out of obscurity to score 17 points in the first half of Michigan's loss to Louisville in last season's NCAA title game. That apparently made an impression on South Carolina State coach Murray Garvin.
"We saw (No.) 2 go off in the national championship game, so we were worried about him," Garvin said. "We were waiting for him to start shooting, but LeVert was the one. Whoa, he was making everything in sight. We didn't expect that."
Albrecht did not attempt a shot Tuesday.
Robinson had 13 points and nine rebounds, and Jon Horford had nine points and 15 rebounds. Freshman Derrick Walton added 12 points for Michigan.
Matthew Hezekiah scored 11 points for the Bulldogs.
The Wolverines can expect their first significant test of the season Sunday when they play at Iowa State. Then they head to a tournament in Puerto Rico that will include matchups with Long Beach State and either Florida State or VCU.
Michigan's school record for 3-pointers is 16, which the Wolverines last accomplished three years ago against Bryant. The mark seemed likely to fall, but Michigan ended up one short. The Wolverines shot only 36 percent from the field in the second half and were outscored 36-34. But the game was never in doubt.
Michigan's individual school record is nine 3-pointers, by Garde Thompson in a 1987 NCAA tournament game. Michigan beat Navy in that game despite 50 points by David Robinson.
Copyright by STATS LLC and The Associated Press