Clemson Cruises By SC State 65-49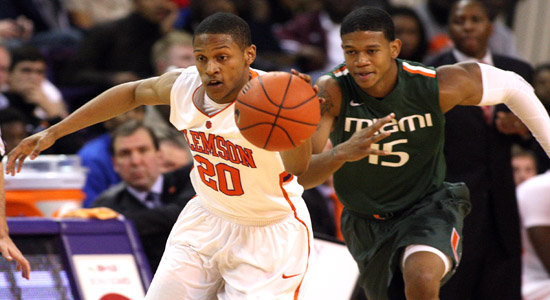 CLEMSON, S.C. (CU SID) — Clemson overcame a sluggish first half to put away SC State by a score of 65-49 on Tuesday at Littlejohn Coliseum. The victory improved the Tigers to 7-1 on the season, 5-0 at home. SC State fell to 2-6 with the loss.
Devin Coleman led the Tigers with 16 points, all in the first half. He was one of three players with a career-high point total Tuesday. Landry Nnoko added a double-double, scoring a career-high 13 to go with 11 rebounds. Josh Smith was effective off the bench, scoring a career-best six on 3-of-5 shooting. Rod Hall added nine and four assists, without a turnover in 37 minutes.
SC State started the game hitting six of its first 10 shots, but struggled heavily after that point and ended the game just 21-of-61 from the field, 34.4 percent. Clemson struggled as well, connecting on just 39.4 percent in the second half and 42.4 for the game. The Tigers outrebounded the smaller Bulldogs 44-34 and outscored SC State by 12 in the paint and by 11 on second chances.
The Tigers got off to a slow start, trailing 7-0 before Coleman buried a three. The lead grew to 18-8 on a Bulldog steal and bucket with just over 10 minutes left in the opening half. Coleman's second long-range ball cut the deficit to six at 20-14 at the 7:59 mark. An inside follow from Nnoko and steal and layup by Coleman brought Clemson within two moments later.
Clemson took its first lead on a crafty layup by Coleman with just over five to play. His shot put the Tigers up 25-24. The teams exchanged baskets the next couple of minutes as SC State pushed the lead to four again. After some good work inside by Nnoko, Hall hit a driving layup from the left side with 44 seconds before half and was fouled, putting the Tigers ahead 34-31.
The Tigers came out in an attacking mindset in the second frame. Behind a Nnoko putback, the lead expanded to seven at 44-37 to prompt an SC State timeout with 15:02 remaining. K.J. McDaniels, Clemson's leading scorer at 18.6 points per game entering Tuesday, did not score until a wing three with 14:25 to play. His bucket gave the Tigers a 10-point edge. He finished with a season-low seven points.
The Bulldogs kept the deficit within 11 to 13 points most of the second half, but it stretched to 16 with two and a half to play when McDaniels rose above a crowd to follow a Jaron Blossomgame miss for an emphatic slam. SC State scored just 18 points in the second half against the deeper Tiger team.
The Tigers hit the road for the first away game of the season on Saturday. Clemson will face Arkansas at Bud Walton Arena in Fayetteville, AR at 2 p.m. in a game televised by CSS.