Clemson Holds First Full Orange Bowl Practice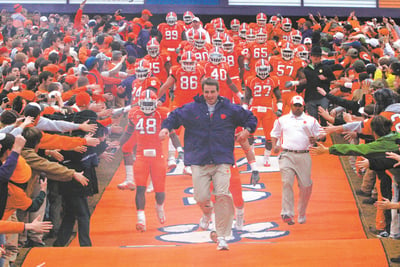 Clemson, SC (CU SID) — Clemson returned to practice in full gear on Saturday as it prepares for the 2014 Discover Orange Bowl game against sixth-ranked Ohio State.  The Tigers had a light workout in shorts on Friday, but were dressed in full uniform on Saturday.

The Tigers worked for over two hours in the indoor practice facility while a steady rain poured outside for the entire length of the practice.
                  This will be Clemson's second appearance in the Discover Orange Bowl in the last three years.  Clemson joins Alabama, Stanford, Oregon, Florida State, and Wisconsin as the only schools to play in a BCS Bowl two of the last three years.

"We had a good workout, " said Head Coach Dabo Swinney.  "The guys have not practiced in a couple of weeks, but I saw some good work out there.  The practice got better as we went along."

The Tigers are allowed 15 practices in preparation for the Discover Orange Bowl. Clemson will work Monday throughThursday next week, take Friday off for a community service project, then have a final pre-Christmas practice on Saturday, December 21.

"We will work a lot on fundamentals, work on preparation for Ohio State, and work with the young players who have not played this year."   Each practice there will be a post-practice 10 minute workout for the red-shirts and other young players on the roster.

Swinney made a few comments about Ohio State after practice.  "Ohio State has an outstanding quarterback in Braxton Miller.  He has rushed for over 1000 yards.  He is a quarterback who can run like a running back and that will be a challenge.  But we will have a good plan.  I am also impressed with their very physical running back,  Carlos Hyde.  

"Ohio State is fourth in the nation in rushing. They do what they do and they have been very successful with it.  They have won 24 of their last 25 games.  They also have a strong defensive line and have done a good job stopping the run.  

"We are playing Ohio State, what a great opportunity to go against the best.   I think this will be one of the most highly anticipated games of the bowl season."

Clemson will be without the services of Gif Timothy for the bowl game and going forward.  The red-shirt junior offensive tackle has decided to retire from football.  "I had a talk with Gif on Friday and his knee is just too painful.  It has been a frustrating year for him because he just can't perform at the level he is accustomed to.

"What a great young man.  Gif Timothy never complained and he gave every ounce he had to be the best he can be.  He will stay on with us as a student coach and will be a good example to the young offensive linemen we have on this team." Timothy started six games this year and played in nine for a total of 263 plays.  For his career he started 17 games and played in 28 for a total of 1128 snaps.

Clemson Discover Orange Bowl Ticket Information:
The Clemson Athletic Ticket Office is currently selling tickets to the 2014 Discover Orange Bowl. Ticket prices range from $50 to $225, with a limited number of $50 tickets made available by the department in an effort to provide an economical option for fans wanting to support the Tigers against Ohio State. 
Additionally, the athletic department is providing a complimentary parking pass ($20 value) to any ticket order of four or more. Fans purchasing a minimum of four tickets will also receive two complimentary passes ($40 value) to the One Clemson Tailgate on game day in Miami. All ticket orders processed through the athletic department will have all processing or shipping costs waived.
Purchase tickets online at ClemsonTigers.com.