Clemson Soccer Gets NCAA Tournament Bid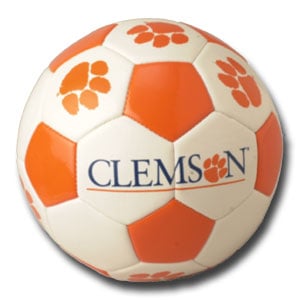 CLEMSON, S.C. (CU SID) — The Clemson men's soccer team received a NCAA Tournament bid as announced by the organization Monday afternoon.
Clemson will play at Elon on Thursday night at 7:00 p.m. in the first round.  The winner of this match will play UCLA in Los Angeles, CA on Sunday.   UCLA is the number-one overall seed in the tournament.
The Tigers are 11-7-2 on the year and are led in scoring by Thomas McNamara with seven goals and eight assists for 22 points. Teammate Ara Amirkhanian has six goals and three assists for 15 points.    Andrew Tarbell is the Tigers' goalkeeper this season and he has a 1.03 goals allowed average and 34 saves on the year. 
Elon has a 15-4-2 record overall.   The Phoenix is led in scoring by Jason Waterman with 11 goals and seven assists for 29 points.    James Brace has 10 goals and four assists for 24 points.     Nathan Dean is Elon's goalkeeper.   This season he has a 0.95 goals allowed average and has made 67 saves.  
Elon won the Southern Conference Championship for the third season in a row with a 1-0 overtime victory over Wofford on November 17th.
This will be Clemson's 27th appearance in the NCAA Tournament.   The 27 appearances are tied for the ninth most in NCAA Tournament history.   Clemson last went to the NCAA Tournament in 2006.    The Tigers won the National Championship in 1984 and 1987. 
Over the years, the Tigers are 46-24-1 in NCAA Tournament play and have advanced to the NCAA's Final Four on seven occasions.    The 46 victories is the fifth most by a school in NCAA history.    The seven Final Fours are tied for the sixth most appearances in the College Cup.   
"I am especially happy for our players," said Clemson Head Coach Mike Noonan.  "I am happy for our upperclassmen who have been here the last three or four years and who have worked and helped build this program.
This is the third different team Noonan has taken to the NCAA Tournament as he led New Hampshire and Brown to the event.    
"I think we are well-deserving of this honor," said Noonan.   This is a special time for our team.   It's a benchmark in restoring Clemson men's soccer back to national prominence.     I want to thank all the players, current and past who have helped rebuild this program.    I also want to thank our NCAA region chair, John Kerr of Duke and the committee for their hard work on our behalf.   
"I am happy that this year will continue.  It's been a very good year and now we have the opportunity for our season to go further.     This gives us something to work towards, and it's a great accomplishment for our program," said Noonan.