Clemson To Face Ohio State In Orange Bowl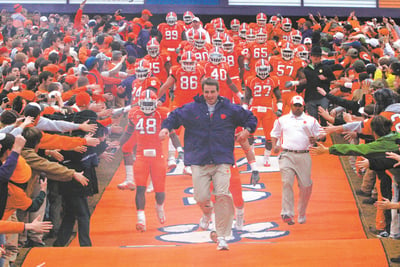 Clemson, SC – (CU SID) Clemson (10-2) will face Ohio State (12-1) in the Discover Orange Bowl on Friday evening January 3, 2014 at 8:30 PM at Sun Life Stadium in Miami Gardens, FL. This will be the second time in the last three years Clemson has played in the Discover Orange Bowl. This is the first time Clemson has been selected for a BCS Bowl as an at-large team.

Both teams are ranked in the top 12 of both polls entering the game.  Clemson is 11th by USA Today and 12th by Associated Press, while Ohio State is sixth by USA Today and seventh by Associated Press.   This will be Clemson's sixth game against a top 12 team (AP poll or USA Today) in its last 15 games over two seasons.  It is also the first time Clemson has played against a team that already has 12 wins.

"We are very excited to go to the Discover Orange Bowl for the second time in the last three years," said Clemson Head Coach Dabo Swinney.  "Getting to another BCS Bowl game is very important for our program.  We have developed some consistency the last three years.  

"We have been ranked in the top 15 the last 27 polls, the longest streak in Clemson history, and have won at least 10 games three years in a row, something only six other FBS schools have done. 

"Playing Ohio State is another opportunity to face a top 10 team.  Coach (Urban) Meyer's team was just a few plays away from playing for the National Championship.  It is one of the top programs in the nation.  We are playing a program that has lost just once in the last two years.

"This should be a great matchup at a number of positions as some of the top players in the nation will be competing on each side of the line of scrimmage.  Both quarterbacks (Clemson's Tajh Boyd and Ohio State's Braxton Miller) are proven winners and have been for a long time.  I know Tajh is looking forward to the challenge in his final game in a Clemson uniform."

This will be just the second meeting between the two schools.  Clemson won the previous contest 17-15 in the 1978 Gator Bowl in Jacksonville, FL.  This will be Clemson's first game against a Big Ten team since the 1990 season when Clemson defeated Illinois 30-0 in the Hall of Fame Bowl. (Clemson played Nebraska in the 2008 season Gator Bowl, but Nebraska was not in the Big Ten at the time.)

Overall, this will be Clemson's 36th appearance in a bowl game and the ninth consecutive year, the 10th longest active streak in college football.  Clemson's 17 wins in bowl games stand 18th best in college football history.

This will be Clemson's fifth appearance in the Discover Orange Bowl, but the second in three years. The Tigers were victorious over Miami (FL) in the 1951 Orange Bowl, then lost to Colorado, in the 1957 event. 

The Tigers won the National Championship with a seven-point victory over Nebraska in the 1982 Orange Bowl.  West Virginia downed Clemson in the 2012 Orange Bowl, Clemson's most recent appearance.
The Tigers enter the Orange Bowl with a 10-2 record overall, 7-1 in the Atlantic Coast Conference, second best in the Atlantic Division behind number-one ranked Florida State.
Clemson has been ranked in every AP and USA Today poll this year and has a streak of 45 consecutive polls in the top 25, the seventh longest active streak among FBS schools and the second longest streak in Clemson history.
The Clemson team has shown balance on offense and defense this year. Clemson, Florida State, Wisconsin and Baylor are the only schools nationally to rank in the top 25 in the nation in scoring offense, scoring defense, total offense and total defense.  Twelve Clemson players were named to an All-ACC team and three are finalists for national position awards.

Tajh Boyd, a finalist for the Unitas Award and the Manning Award, is the leader of the Clemson offense and the entire team for that matter.  The soon-to-be Clemson graduate (December 20th) has started each of the last 39 Clemson games, a record for consecutive games started at quarterback by a Tiger signal caller.  Clemson and Boyd have won 31 of those starts, the second most career wins by a Clemson starting signal caller.

Boyd owns 58 Clemson records, including ACC marks for career touchdown passes (102), passing efficiency (154.6) and touchdowns rushing and passing (127).  

This year's Discover Orange Bowl figures to be a great matchup of quarterbacks.  Boyd is one of just three active quarterbacks in the FBS with at least 10,000 career yards passing and 1,000 yards rushing, while Ohio State's Braxton Miller is one of just two FBS quarterbacks with at least 5,000 yards passing and 3,000 yards rushing. Boyd has led Clemson to a 21-4 record the last two years, while Miller has led the Buckeyes to a 24-1 mark.

Last year Boyd completed 36-50 passes for 346 yards and two touchdowns against a top 10 LSU team in the Chick-fil-A Bowl, a game Clemson won 25-24.
Boyd's favorite target is receiver Sammy Watkins, one of three finalists for the Biletnikoff Award.  Watkins has 85 receptions for 1237 yards and 10 touchdowns this year. He is fourth in ACC history in career receptions and fifth in reception yards.

Watkins has had seven games with at least 100 receiving yards this year, including the season opener against Georgia when he had a 77-yard touchdown reception.  He also had two touchdown catches of at least 90 yards this year, the only receiver in college football to do it.
The top rusher is graduate Roderick McDowell.  The native of Sumter, SC is in his only season as a starter, but has accumulated 956 rushing yards on just 177 carries.  He has a 5.4 average and has scored five touchdowns.  Also a solid receiver, McDowell has 25 catches for 167 yards and two scores out of the backfield.
The top offensive linemen are Brandon Thomas and Tyler Shatley. Thomas was a first-team All-ACC selection last year and a second team choice this season.  He has started each of the last 35 Clemson games in the offensive line.  Shatley was a third-team All-ACC choice this year and is in his second year as a starter at guard.
Clemson's defense  is led by All-American Vic Beasley.  The junior is a finalist for the Ted Hendricks Award, the honor given to the top defensive end in college football.  The native of Georgia ranks fourth in the nation in sacks with 12 and is just the fourth Clemson defender to reach a dozen sacks in a season.  He also stands seventh in the nation in tackles for loss with 19.
The top interior lineman is junior Grady Jarrett, the third leading tackler on the Clemson team with 77.  He also has 10 tackles for loss and 13 quarterback pressures.
Linebackers Stephone Anthony and Spencer Shuey are the top two tacklers for the Tigers.  Anthony has 120 and Shuey has 110 and one of the two players has been Clemson's top tackler in eight of the 12 games. Both were third-team All-ACC performers.
Senior linebacker Quandon Christian came on strong at the end of the season as he was Clemson's defensive player of the game according to Clemson coaches against Georgia Tech and The Citadel.  He had 18 tackles and 3.5 tackles for loss in those games combined.
Bashaud Breeland has been the most productive in the secondary with four interceptions and 18 total passes defended, both among the top five in the ACC.  Breeland also has 66 tackles, including 51 first hits.  Safety Robert Smith is fourth on the team in tackles with 69. 
Chandler Catanzaro is the top scorer from the placekicker position with 95 total points.  The graduate from nearby Greenville, SC is second in ACC history in career scoring with 400 points and is second among active FBS players with that point total. He has made 39 of his last 41 field goals over three years, including 13-14 this year.  He is 56-56 on extra points.
Punter Bradley Pinion handles kickoffs and the punting.  He has 32 touchdown backs in 70 kickoffs and opponents average just 19.1 yards per return.   As a punter he does not have a touchback, but has 23 punts inside the 20, just one off the Clemson single season record.
 
Clemson Discover Orange Bowl Ticket Information
December 8, 2013
The Clemson Athletic Ticket Office is currently selling tickets to the 2014 Discover Orange Bowl. Ticket prices range from $50 to $225, with a limited number of $50 tickets made available by the department in an effort to provide an economical option for fans wanting to support the Tigers against Ohio State. 
Bowl tickets will be assigned to IPTAY members based on IPTAY priority points. General public tickets will be assigned based upon order date.
Additionally, the athletic department will provide a complimentary parking pass ($20 value) to any ticket order of four or more. Fans purchasing a minimum of four tickets will also receive two complimentary passes ($40 value) to the One Clemson Tailgate on game day in Miami. All ticket orders processed through the athletic department will have all processing or shipping costs waived. 
Purchase tickets online at ClemsonTigers.com