Gamecocks Beat Coastal 70-10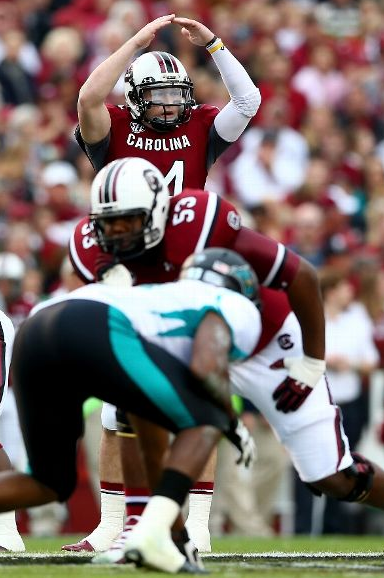 COLUMBIA, S.C. (AP) — Connor Shaw passed for a touchdown and ran for a score in less than a quarter of work and No. 12 South Carolina scored the most points in Steve Spurrier's nine seasons as coach in a 70-10 victory over Coastal Carolina on Saturday.
The Gamecocks (9-2) scored on their first six possessions and surpassed their output from a 69-24 win over Troy in 2010. And it came with South Carolina resting several starters for rival Clemson next Saturday night, including defensive linemen Jadeveon Clowney and Kelcy Quarles and the Southeastern Conference's leading rusher in Mike Davis.
The Gamecocks won their record 17th straight game at home and Shaw improved to 25-5 as a starter, moving past Todd Ellis' wins mark
The news wasn't all bad for Coastal Carolina (10-2). The Chanticleers learned before halftime they shared a Big South championship and earned the league's FCS playoff bid.
Liberty's 56-14 victory over Charleston Southern locked up the automatic playoff spot for the Chants, its second straight under coach Joe Moglia.
For Steve Spurrier, it was his 75th win in nine seasons as Gamecocks coach and moved him to 48-0 against teams from outside BCS automatic qualifying conferences.
South Carolina might have more to celebrate. Should No. 8 Missouri lose at Ole Miss on Saturday night, the Gamecocks would win Southeastern Conference's Eastern Division and head to the championship game at the Georgia Dome in two weeks.
The Gamecocks finished SEC play last week at 6-2, a game behind one-loss Missouri in the East. The Tigers, though, have two more league games left, playing No. 9 Texas A&M and defending Heisman Trophy winner Johnny Manziel after facing the Rebels.
South Carolina would advance with a Missouri loss because of the Gamecocks' 27-24, double-overtime win there on Oct. 26 meaning.
The Chants had hopes of putting on a strong show against South Carolina, but got overwhelmed from the start as the Gamecocks scored touchdowns on their first six possessions.
Coastal Carolina managed just 39 yards the first three times it had the ball and trailed 28-0 in the first quarter.
Spurrier doesn't take many chances against FCS foes, preferring to rest injured players who wouldn't hesitate to play in more critical games. Clowney didn't play in last year's win over FCS Wofford and was not out there for the Chanticleers, although he did go through warmups.
Defensive tackle Kelcy Quarles, the Gamecocks' sacks leader, and SEC leading rusher Mike Davis both sat this one out to rest up for next week's rival game with No. 7 Clemson and a potential SEC title game after that.
Shaw took care of things early, connecting with Shaq Roland for a 35-yard TD less than six minutes in. Reserve tailback Jamari Smith scored on a 3-yard run a series later and Shaw had a 1-yard scoring run set up by Coastal's fumble — the Chanticleers came in with only three fumbles lost all year — to lead 21-0.
Backup quarterback Dylan Thompson found Nick Jones for a 34-yard score on his first play. Thompson also had an 18-yard touchdown pass to Pharoh Cooper. Brandon Wilds, out with elbow injury since Sept. 28, returned to action and had a 1-yard touchdown run as the Gamecocks led 42-7 at the half.
Coastal Carolina finally broke through for points late in the half, quarterback Alex Ross scrambling free of defenders on fourth down and connecting with Lorenzo Taliaferro for a 1-yard touchdown pass.
Moglia, the one-time CEO at TD Ameritrade, pulled many starters in the second half to rest for the playoffs, something he said he'd do if things got out of hand.
Coastal finished with 294 yards and Taliaferro, who was fifth in the FCS rushing with 1,466 yards and had 23 touchdowns, was held to 21 yards.