Gamecocks Come Back To Beat Florida 19-14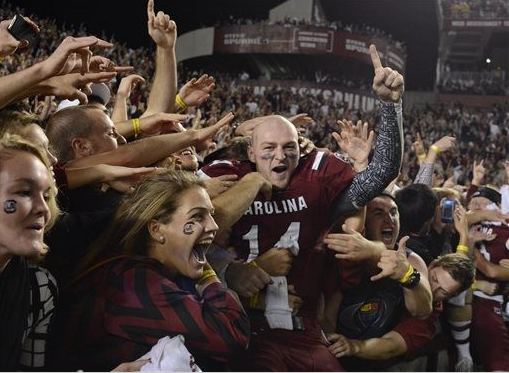 COLUMBIA, S.C. (AP) — Elliott Fry kicked four field goals and No. 11 South Carolina won its school-record 16th straight at home, sending banged-up Florida to its fifth consecutive loss with a 19-14 victory Saturday night.
The Gamecocks (8-2, 6-2 Southeastern Conference) struggled to score points against the Gators' SEC-leading defense until Fry gave them a 16-14 lead with a 22-yard field goal with 6:43 remaining.
Trailing 19-14, Gators freshman quarterback Skyler Mornhinweg led the Gators into South Carolina territory but was intercepted by Jimmy Legree to end the threat. This is the longest losing streak for Florida (4-6, 3-5) since dropping nine straight during its 0-10-1 season in 1979.
The Gamecocks' win kept them in the SEC's Eastern Division race. They got a large boost in the bid for the title game with Auburn's last-second, tipped-ball comeback to defeat Georgia. The Gamecocks still need Missouri to lose once more.