Gamecocks Lose Big At Oklahoma State, 79-52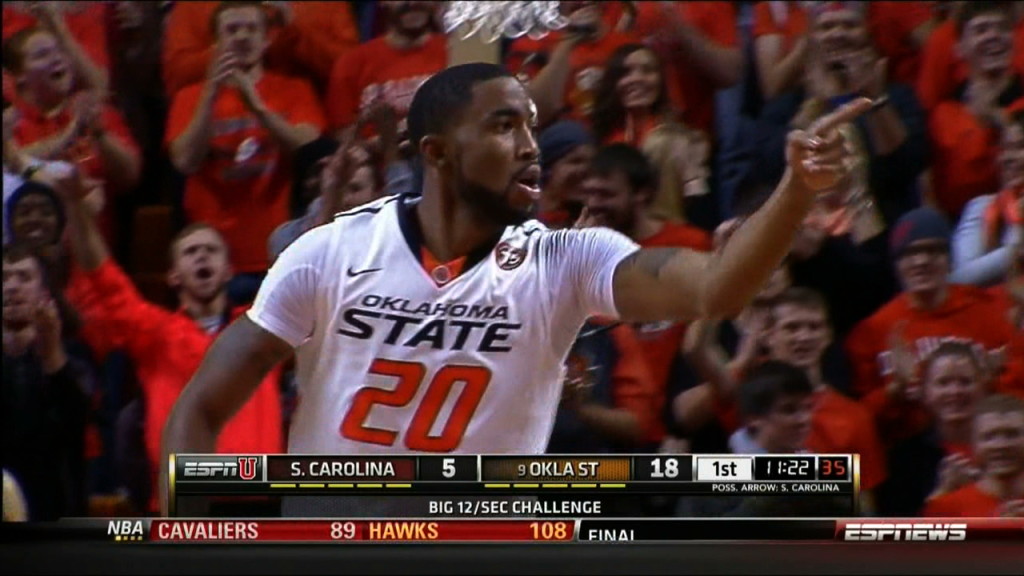 STILLWATER, OK (AP) — Le'Bryan Nash had 16 points to lead five Oklahoma State players in double figures as the ninth-ranked Cowboys made easy work of South Carolina in a 79-52 win on Friday night.
Marcus Smart added 13 points for the Cowboys (8-1), who bounced back from their first loss of the season last week. Markel Brown added 11 points, and Brian Williams and Michael Cobbinsfinished with 10 points each.
Oklahoma State, which held the Gamecocks to a season low in points, led by as many as 26 points in the first half, putting the game out of reach with an early 25-2 run.
Jaylen Shaw led South Carolina (2-3) with 13 points, while Tyrone Johnson finished with 12.
Oklahoma State lost 73-68 to No. 16 Memphis last week in the championship game of the Old Spice Classic. That game was the fourth within a week in Florida for the Cowboys, who played against the Tigers with Smart — who had 12 points — battling virus-like symptoms.
Smart was back to his usual self on Friday, scoring 11 points in the first half as Oklahoma State built a 26-point lead and put the game well out of reach. The sophomore added five assists, four rebounds and two steals in a game in which the Cowboys gave him plenty of help.
Nash was 5 of 7 from the field, while Cobbins was 5 of 6. Oklahoma State scored 33 points off 24 turnovers by the Gamecocks.
South Carolina hadn't played a game in nearly two weeks, with its last outing an 84-72 victory over Florida International on Nov. 24.
Whether it was the time off, or simply the swarming Cowboys' defense, the Gamecocks struggled mightily to score in the first half. South Carolina trailed 39-15 at halftime, shooting just 20 percent (4 of 20) and committing 13 turnovers that led to 21 points by Oklahoma State.
The Gamecocks finished 16 of 45 (35.6 percent) from the field despite hitting 6 of 11 3-point attempts.
Led by Smart, the Cowboys had no such problems — using a 25-2 run to put the game out of reach in the opening minutes.
Williams' free throw made it 27-5, capping a run during which the Gamecocks went nearly 5 minutes without scoring.
Smart finished the first-half scoring in style, driving the baseline for a left-handed dunk, but he was hardly the only one to get in on the fun for the Cowboys.
Nash had a one-handed dunk after a spin move on the baseline, and Cobbins brought the Gallagher-Iba Arena crowd to its feet with a two-handed follow dunk — the first of two the junior had in the game.