No. 12 Gamecocks Back In The SEC East Race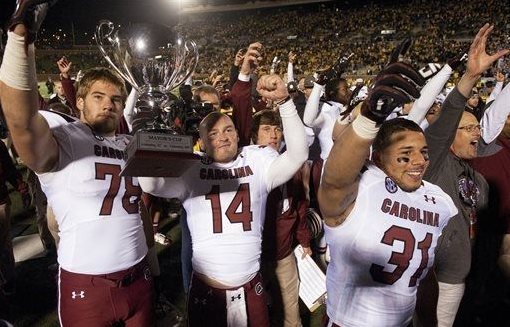 COLUMBIA, S.C. (AP) — No. 12 South Carolina is a Missouri loss away from the Southeastern Conference title game, something only the most hopeful, Gamecocks thought was possible a month ago.
South Carolina's chase for a league championship seemed finished when the Gamecocks were upset 23-21 at Tennessee and trailed undefeated Missouri 17-0 entering the fourth quarter on a cold, damp night in Columbia, Mo.
But play by play and break by break, the Gamecocks (8-2, 6-2 SEC) have climbed back into the SEC East race.
South Carolina got help Saturday with Auburn's improbable, tipped-ball touchdown for a 43-38 win over Georgia, which had beaten the Gamecocks to start SEC play and held the tiebreaker against them.
Now, South Carolina must wait as leader Missouri finishes league play the next two weeks.