Notes From Carolina Calls: Clemson Week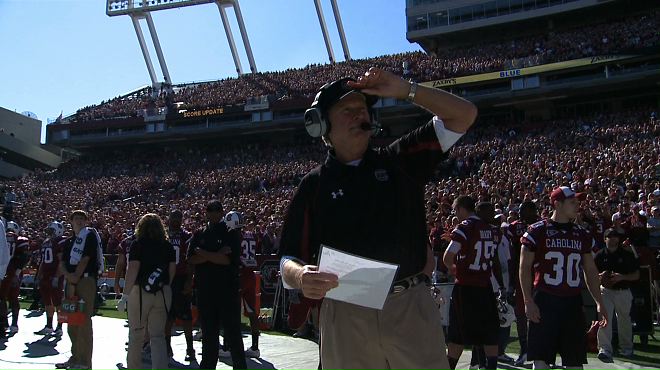 COLUMBIA, S.C. (WOLO) — Steve Spurrier held his weekly call-in radio show Tuesday night at the Wild Wing Cafe in downtown Columbia to preview the Gamecocks' Saturday night match-up with Clemson. 
Spurrier notes:
-The Gamecocks had a Thanksgiving team dinner at Seawell's restaurant tonight. 
-Injury update: Defensive end Jadeveon Clowney, running back Mike Davis and defensive tackle Kelcy Quarles should be ready to go against Clemson. 
-Spurrier was questioned about possibly running-up the score against Coastal Carolina last weekend. Spurrier said after South Carolina built a lead in the game, he put the back-ups in and let them play.  Spurrier said he felt like that was fair. 
-Said the game should be around 45 degrees and that should not be as cold as the South Carolina vs. Clemson game was last year in Death Valley.
-Spurrier said he has been surprised by the lack of national media attention surrounding Saturday's game.  He said he feels like the game deserves more attention, considering it is a BCS top 10 match-up.
-Said running back Mike Davis, "Jumps around a whole bunch," and needs to get his pads down and go. Spurrier would like him to run instead of cutting.