Clowney:I've Had To Grow Up Fast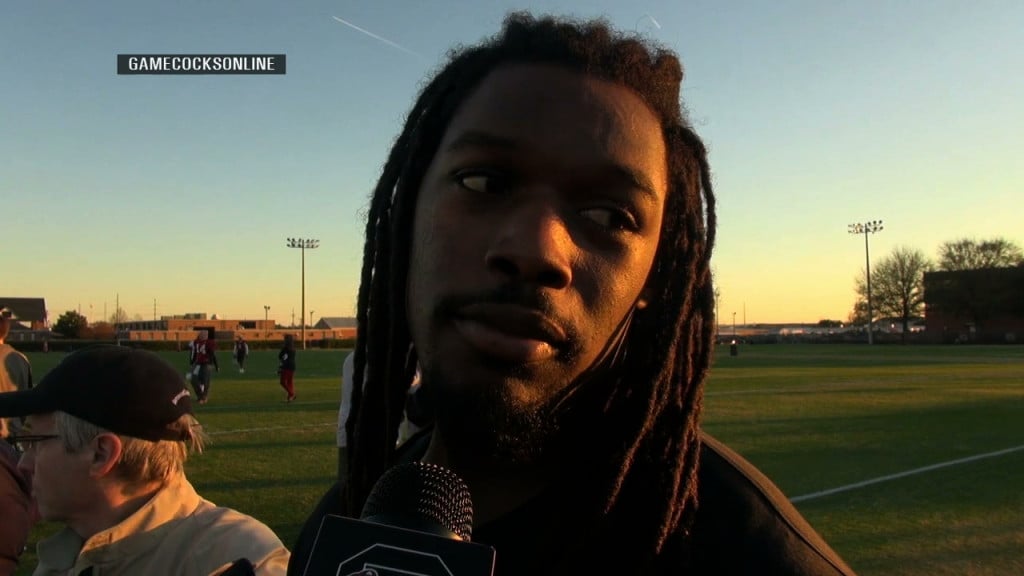 COLUMBIA, S.C. (USC SID) — The University of South Carolina football squad returned to the practice fields Tuesday afternoon to begin its preparations for the New Year's Day Capital One Bowl matchup with the Wisconsin Badgers.
Junior defensive end Jadeveon Clowney is getting ready for his final game wearing the Garnet & Black. He indicated that, with the time off since the Clemson game, he is as healthy as he's been in some time. "I'm going to miss it," Clowney said of his time at Carolina, "but I'm ready for (the next chapter)."
Clowney knows that the Wisconsin offense will present a challenge to the Gamecock defense.
"They can run the ball pretty well," said Clowney. "They'll try to pound it at us. We've got to be ready to stop the run.  I think they pass the ball a lot more than you expect," cautioned Clowney. "They do a lot of play-action pass." Clowney said that the Badger offense reminded him of Arkansas in the SEC. "Arkansas likes to run the ball and pound it. (Wisconsin) will come and do a lot of the same things."
Clowney has a lot on his horizon in the coming months, but he is focused on the Capital One Bowl. "We're just focused on one game at a time. We're looking forward to the bowl game. I've got my mind on the team. We're trying to finish the season off strong and win this game against Wisconsin. My three years went by so fast. I'm just looking to moving forward in life. I've gotten a lot (out of my time at South Carolina), but there's still more I can learn here. I'm still maturing and becoming an adult. I've had to grow up fast. I'm 20 years old. I'm young, but I've got to mature faster than what other people expect."
"I think he's done a great job," said defensive line coach Deke Adams of Clowney this season. "You don't see many players that have been double teamed, and triple teamed, and run away from and all that as much as he has this year. I think he's done a great job with it. I think he's handled himself well. I think some of the things throughout the year were blown out of proportion with the way it happened, but he's been great for us here and we're happy to have had him at South Carolina.
"Over the past couple of weeks I've actually seen (Jadeveon) really grow up and start to mature and teach guys off on the side. He understands the state of the program. He's starting to give them tips. I think he's been great for South Carolina. He's a great athlete. He's brought a lot of publicity to the University and I think he's done a good job with it. "
The Gamecocks will return to the practice fields on Wednesday afternoon.
The No. 8/8 Gamecocks (10-2, 6-2 SEC) and No. 19 Badgers (9-3, 6-2 Big Ten) will meet at Florida Citrus Bowl Stadium on Wednesday, January 1. Game time is set for 1 p.m. ET and the game will be televised nationally on ABC with Dave Pasch, Bob Griese and Tom Luginbill handling the broadcast.