USC Softball Wins Opener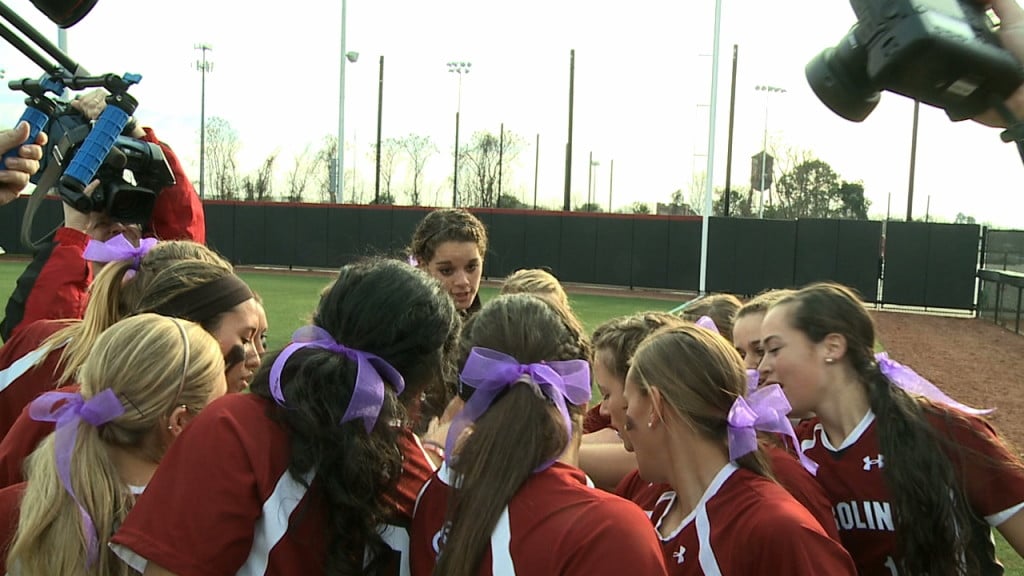 COLUMBIA, S.C. (USC SID) – Behind two standout freshmen in Nickie Blue and Kaylea Snaer, South Carolina downed Iowa 1-0 to start the 2014 season at Carolina Softball Stadium at Beckham Field on Friday evening.
In front of the largest regular-season crowd at a home Gamecock softball game of 1,123 fans, Blue pitched a shutout for five innings, scattering three hits and two walks while striking out two. Snaer added her first career homer, the only run in what proved to be a pitching duel to start the season.
Snaer's first blast came on a 2-1 pitch in the fourth with one away, breaking the scoreless tie. South Carolina threatened again in the fifth, loading the bases with one down, but Iowa got a ground ball right to the second baseman, who tagged the Gamecock runner and threw to first for the inning-ending double play.
In the Iowa fifth, the Hawkeyes got an infield single before a Gamecock error put runners at the corners with no one out. South Carolina responded by catching the runner trying to take home on the double-steal play on a good throw from senior shortstop Codee Yeske. Then Yeske caught the liner on the next pitch and ran behind the pinch runner at second to double her off to end the inning.
Redshirt junior Julie Sarratt came in after Blue and baffled the Iowa lineup for two innings to picked up her fourth career save, striking out three. Iowa senior Kayla Massey (0-1) took the loss, giving up one earned run on five hits and one walk while fanning three in six innings.
Senior second baseman Ashlyn Masters went 2-for-3, while senior right fielder Chelsea Hawkins and Yeske got the other Gamecock hits, Hawkins posting a double. Erin Erickson, Alyssa Navarro and Whitney Repole had the three Hawkeye hits, Erickson's being the only one for extra bases.
The Gamecocks won their second-consecutive season opener under head coach Beverly Smith and start the year with a shutout win for the first time since 2007. The victory stands as the 1,300 in the program's history in the initial game of the 41st season of sponsorship at South Carolina.
Ohio started the Carolina Classic with a 9-4 win over Presbyterian, and Iowa topped UNC Greensboro 5-0 in the second game.
The Gamecocks face Ohio and Presbyterian in the second and third games of Saturday's action of the Carolina Classic, with the contest against the Bobcats set to start at 12:30 p.m. EST. Ohio and UNC Greensboro start the day at 10 a.m., while Presbyterian and Iowa close the action at 5 p.m.