Game 1: USC Dominates Bucknell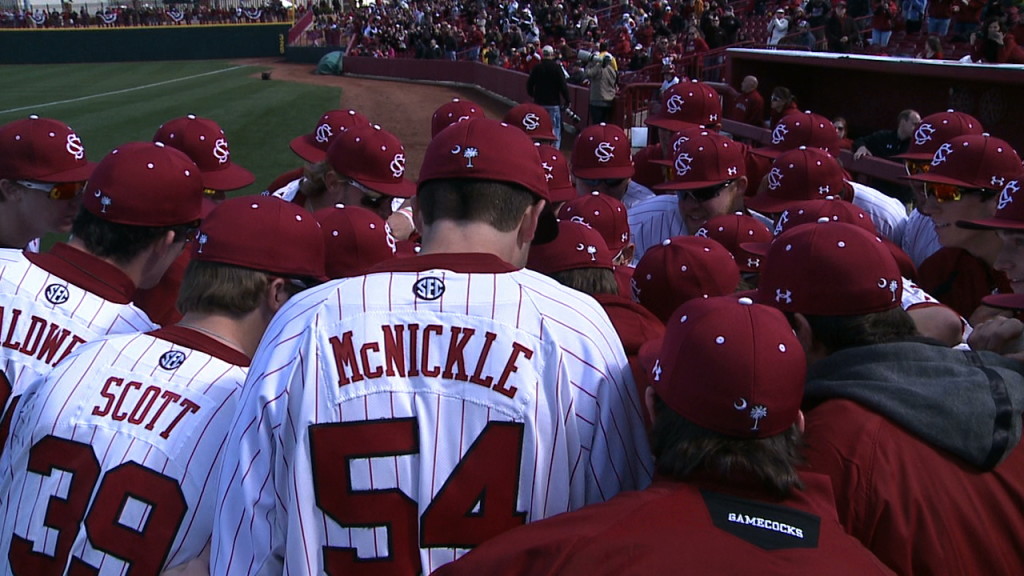 COLUMBIA, S.C. (USC SID) – Seventh ranked South Carolina pounded out 10 hits and reached base with 13 additional walks and four hit by pitches en route to a 17-4 victory over Bucknell on Opening Day at Carolina Stadium.
Sophomore designated hitter DC Arendas was 3-for-4 with a homer and three RBI. Junior first baseman Kyle Martin went 2-for-2 with a pair of RBI and two runs scored with junior catcher Grayson Greiner 2-for-3 with two RBI and two runs scored as well.  Connor Bright added three RBI.  Max Schrock walked four times and scored four runs with Joey Pankake adding three runs also.

Junior left-hander Jordan Montgomery hurled five scoreless innings and allowed just three hits and one walk while striking out four batters to pick up the win. Freshman right-hander Taylor Widener added two scoreless innings of relief and allowed just two hits and struck out two batters.  Bucknell starter Bryson Hough lasted only 2.1 innings and suffered the loss.  He allowed eight runs on six hits with four walks and a strikeout.

Two walks led to a pair of runs in the bottom of the first for the Gamecocks. Back-to-back walks to Marcus Mooney and Max Schrock opened the frame and a double to right field off the bat of Kyle Martin scored Mooney for the first run of the 2014 season. Greiner drove in Schrock with a RBI groundout to give South Carolina a 2-0 lead.

The Gamecocks increased their lead to 8-0 in the bottom of the third. Schrock drew a one-out walk and a pitch hit Pankake to give Carolina a pair of runners. Martin singled for his second hit of the day and scored Schrock. With runners on the corners, Greiner doubled to right field and drove in his second run of the game as Pankake crossed home plate. Connor Bright increased South Carolina's lead to 6-0 as he knocked a ball to deep right for a double, bringing home Martin and Greiner. DC Arendas then sent a 2-0 pitch over the right field wall for a two-run homer, the first home run and runs batted in of his career.

South Carolina scored six runs in the bottom of the sixth despite not recording a hit. A throwing error by the Bucknell shortstop Greg Wasikowski scored Mooney and Schrock for the first two runs of the inning. The pair reached base after being hit by a pitch and a drawing a walk, respectively. With Pankake on base, Martin and Greiner drew consecutive walks, loading the bases and a third walk to Bright would score Pankake. Bright's three RBI tied a career-high. Arendas added a RBI and Greiner scored on a wild pitch. Elliott Caldwell would bring home Greiner with a sacrifice fly to center field giving the Gamecocks a 14-0 lead.

Carolina added three more runs in the bottom of the seventh. Mooney singled to open frame, and consecutive walks to Schrock, his fourth of the day, and Pankake loaded the bases. Pinch-hitter Brison Celek also drew a walk, allowing Mooney to score. A balk would bring Schrock home and pinch-hitter Gene Cone drove in the final run of the inning extending Carolina's cushion to 17 runs.

Bucknell would get on the board in the top of the eighth after a pair of walks, a single and a fielder's choice allowed Brett Smith to score. The Bison would add three more in the ninth inning including a homer from Anthony Ginerelli.