Mike Gillespie
Sports Director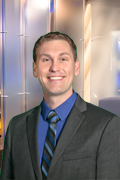 Mike Gillespie comes to WOLO from the Independent News Network in Davenport, Iowa, where he served as sports director.
At INN, Mike produced and anchored five sportscasts per day while overseeing sports content and operations for the network. Before his time at INN, Mike spent five years as an anchor and play-by-play announcer at the University of Florida, handling the play-by-play broadcasts of the Florida Gators softball and lacrosse teams.
He served as the radio announcer for the Florida Gators lacrosse team from 2009-2012, where he announced the 2012 ALC Championship Game in Evanston, Illinois.
Mike finished his fifth season as an announcer in 2014 for Florida Gators softball having announced over 100 softball games with the network. He called mostly non-conference games and the beginning of the Southeastern Conference schedule on the radio network and GatorVision.
Mike previously worked in New York at CBS Sports Radio Network/WFAN and SportsNet New York (SNY) where he reported on notable sports events including the 2013 Alex Rodriguez biogenesis scandal.
Mike graduated from the University of Florida's College of Journalism and Communications with a bachelor's in telecommunication and master's in journalism. He's proud to call the home of the Gamecocks his home as well.