The Latest: Who's left after NFL draft's opening round?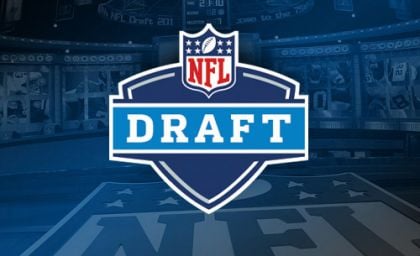 CHICAGO (AP) — 10:30 p.m. (11:30 p.m. EDT)
It's going to be a long night for a few guys who didn't hear their names called tonight.
The first round wrapped up with these four picks: receiver Phillip Dorsett to Indianapolis, defensive back Damarious Randall to Green Bay, linebacker Stephone Anthony to New Orleans and defensive tackle Malcom Brown to New England.
Among those who didn't go on the first day:
—OT La'El Collins. Police want to talk to him about the killing of his ex-girlfriend in Louisiana. He is not considered a suspect.
—LB Randy Gregory. Tested positive for marijuana at the NFL combine.
—WR Dorial Beckham-Green. Character issues at Missouri make him one of the biggest guesses in the draft.
—CB Jalen Collins, DT Eddie Goldman, LB Eli Harold, OL T.J. Clemmings.
Receiver was the most popular position. Six were taken. The ACC and Pac-12 led the way with nine first-round picks each.
Goodell closed the night saying to fans: "Thank you for making tonight special."
___
10:12 p.m. (11:12 p.m. EDT)
The Texans newest player will visit Houston for the first time tomorrow.
But Kevin Johnson will have his hometown of Baltimore on his mind.
The city has been roiled by rioting over the past week in the aftermath of the death of Freddie Gray.
Houston picked the defensive back from Wake Forest 16th in the first round.
"It's unfortunate people have to see Baltimore in that light," said Johnson, shortly after the Texans picked him 16th.
___
10:03 p.m. (11:03 p.m. EDT)
Someday, they may call him Dr. T.
For now, the Detroit Lions have themselves a pretty ambitious offensive lineman.
The Lions used the 28th pick to select Laken Tomlinson, a guard who someday wants to be a neurosurgeon.
He grew up in Jamaica and ended up as a pre-med student at Duke.
His desire to be a doctor came when he was a sophomore in high school, and on a visit back to Jamaica, he watched his grandfather die because of what he called inadequate health care in his home country.
"That angered me and I wanted to change that," Tomlinson said. "My goal in life is to, one day, go back to Jamaica and change the health care system there."
Before the Lions chose Tomlinson, Baltimore used the 26th pick on wide receiver Breshad Perriman of Central Florida and Dallas used pick No. 27 for defensive back Byron Jones of UConn.
___
9:50 p.m. (10:50 p.m. EDT)
Roger Goodell stepped aside and let the Walter Payton Man of the Year, Panthers linebacker Thomas Davis, announce his team's pick.
And, at No. 25, Carolina took another linebacker: Shaq Thompson of Washington.
The Huskies have now had three players picked in the first round. How did they only go 8-6 last season?
___
9:45 p.m. (10:45 p.m. EDT)
When Arizona used the 24th pick on offensive lineman D.J. Humphries out of Florida, it marked the fourth straight SEC player taken.
With eight more picks left tonight, the SEC now has seven players taken in the first round, matching the Pac-12 for the lead so far.
___
9:37 p.m. (10:37 p.m. EDT)
Hey, everybody's doing it. In Colorado at least.
The Broncos gave away two fifth-round draft picks and a starting offensive lineman to move up five spots in the first round and take Missouri pass rusher Shane Ray — the player who was cited for marijuana possession Monday in Missouri.
The drug is legal in Colorado.
Ray, who led the SEC in sacks last season, sounded chastened after he was selected 23rd. He'll play on a defense with Von Miller.
"I'm just so honored," he said. "They gave me a chance. That's all I needed. They gave me a chance and I'm going to take full advantage."
__
9:29 p.m. (10:29 p.m. EDT)
The Eagles chose wide receiver Nelson Agholor out of USC with the 20th pick. Maybe he'll be Tim Tebow's new favorite target.
At No. 21, Cincinnati went with offensive tackle Cedric Ogbuehi of Texas A&M. He was projected as a second-day pick on many boards.
At No. 22, Pittsburgh took Kentucky linebacker Bud Dupree.
___
9:10 p.m. (10:10 p.m. EDT)
Browns fans can relax.
Cleveland didn't make any picks of the Johnny Manziel variety this year in the first round, choosing instead to go with "safe" choices: offensive lineman Cameron Erving of Florida State and nose tackle Danny Shelton of Washington.
The newest Browns made more of a splash on draft night for what they wore, not who they were.
Shelton wore a traditional Samoan skirt called a lava-lava, as a tribute to his heritage.
And Erving wore a tux that made him look more like a maitre 'd than a future NFL star.
Time will tell.
But all in all, this was a far cry from last year for Cleveland, when the Browns were active all night and ended up with Manziel, who fell far down the draft board to the 22nd pick.
___
9:06 p.m. (10:06 p.m. EDT)
Some teams wouldn't go near him. The Kansas City Chiefs weren't on that list.
The Chiefs selected cornerback Marcus Peters, even though he was kicked off his college team — Washington — with four games left in the season.
Peters had repeated run-ins with the coaching staff, including an outburst on the sideline in one game.
He visited more than a dozen teams to try to explain his problems and preserve his draft stock.
Despite that, a number of teams reportedly took him completely off their draft boards because of the problems.
___
9:01 p.m. (10:01 p.m. EDT)
The way Leonard Williams sees it, getting ready to play in the NFL won't be much of a problem.
"USC really prepared me," he said. "They're almost an NFL program, in college."
The Jets used the sixth pick on a player who was rated one, two or three by a number of the draft experts.
Time will tell if it was a bargain.
But Williams already sounds like he knows what's important about playing for the Jets. When he visited the Jets, he saw a bunch of pictures on the wall of the Patriots with lines crossed through them.
"I hope that's the first sack of my career, against Tom Brady," he said.
Also, the 49ers used the 17th pick to take defensive end Arik Armstead of Oregon.
___
8:55 p.m. (9:55 EDT)
Houston takes CB Kevin Johnson of Wake Forest, who didn't miss a game during his college career.
He's the fifth player taken from the ACC, one more than the Pac-12 thus far.
___
8:47 p.m. (9:47 p.m. EDT)
Finally, some wheeling and dealing.
San Diego traded with San Francisco to move up two spots and pick running back Melvin Gordon of Wisconsin with the 15th selection.
The cost for the Chargers: This year's first- (17th overall) and fourth-round picks, along with a fifth-round pick next year.
___
8:40 p.m. (9:40 p.m. EDT)
Saints use 13th pick on offensive tackle Andrus Peat of Stanford, bypassing higher-rated OL La'el Collins, who is still available but asked to be taken out of the draft earlier in the day.
The NFL denied Collins' request. Though he's not a suspect, police want to talk to Collins about the killing of his ex-girlfriend in Louisiana.
Dolphins follow by taking receiver DeVante Parker out of Louisville.
___
8:26 p.m. (9:26 p.m. EDT)
Danny Shelton did the draft his way.
To celebrate his Samoan heritage, the Browns' first-round pick dressed in a maroon lava-lava — a skirt — and a white-and-maroon vest and a red lei. He explained it's the sort of outfit he'd wear to a wedding or funeral.
The 6-2, 339-pound nose tackle walked on stage and hugged Goodell, then lifted him off the ground.
Four years ago, Shelton watched as his brother was shot to death during what is described as a street brawl outside of Seattle.
"I've got my brother with me here tonight," he said.
___
8:18 p.m. (9:18 p.m. EDT)
Vikings go with defensive back Trae Waynes of Michigan State, who impressed everyone with a 4.31-second time in the 40-yard dash at the combine.
Cleveland's up next.
___
8:13 p.m. (9:13 p.m. EDT)
OK, now this is getting interesting.
The St. Louis Rams used the 10th pick to take a running back: Todd Gurley out of Georgia.
This has become the least-popular position in a growingly pass-happy league — no running back was picked in the first round of the last two drafts — and the Rams selection is even more intriguing because Gurley is five months removed from a major knee injury.
But doctors say he's on track and his combination of size (6-1, 222 pounds) and speed has some folks thinking he could be the next Marshawn Lynch. (Except he'll talk to reporters.)
___
8:10 p.m. (9:10 p.m. EDT)
White tux. Red piping. Oh, and you've gotta love the gold shoes.
Yes, Dante Fowler Jr. had a stylist design his draft-day outfit.
"I'm a fashion guy," he said, a few minutes after the Jaguars used the third pick on the pass rusher out of Florida.
Really? You have a fashion stylist?
"Is that a bad thing?" he said, looking at the reporters. "I just want to look like you guys."
___
8:05 p.m. (9:05 p.m. EDT)
The Giants chose offensive lineman Ereck Flowers of Miami with the ninth pick — a selection that was met with a collective yawn inside the auditorium.
New York, which averaged only 3.6 yards per rush last season, was clearly selecting for need. When Scherff went to the Redskins, the Giants looked a bit farther down the list to come up with Flowers. He was ranked in the teens by many of the draft experts.
___
8:01 p.m. (9:01 p.m. EDT)
Falcons take pass rusher Vic Beasley out of Clemson.
On stage, Deion Sanders asks him the first thing he's going to do: "I'm just ready to go out and play football," Beasley says.
Good thing. Falcons ranked last in total defense and pass defense last season.
___
7:53 p.m. (8:53 p.m. EDT)
Touchdown, Bears!
It certainly felt like that at the auditorium when Goodell announced Chicago's pick: West Virginia receiver Kevin White.
Fans erupted — the complete opposite reaction of Jets fans, who routinely serenaded their pick with boos for all those years the draft was held in Manhattan.
A few minutes after being announced, White came out to the stage. More cheers. And then — what else? — a big Bear hug with Goodell.
___
7:53 p.m. (8:53 p.m. EDT)
Titans GM Ruston Webster says it would've been difficult to convince the Tennessee brass to trade out of the second spot and pass on quarterback Marcus Mariota.
"Every minute we spent with him, it just felt better and better," Webster said.
And even though the Titans like their current QB, Zach Mettenberger, "There wasn't enough reason for us not to take him," Webster said.
___
7:46 p.m. (8:46 p.m. EDT)
You didn't really think they'd cheer, did you?
An annual tradition stayed right on track when the New York Jets selected defensive tackle Leonard Williams with the sixth pick.
Fans booed.
It's been going on for as long as anyone can remember, only this time, the draft was in Chicago, not the Jets hometown.
Accounting for at least some of the booing may be the fact that the hometown Bears were up next, and their fans, who made up the majority of the crowd at the auditorium, would've loved to see Williams drop another spot.
No luck.
___
7:39 p.m. (8:39 p.m. EDT)
Redskins select offensive tackle Brandon Scherff out of Iowa, the first senior picked in this draft.
Not that OLs ever bring people jumping out of their seats, but there were some moans and groans when Goodell announced this pick.
He's the 14th OL selected out of Iowa since 1999.
He hurt his knee five days before last season's opener, but missed only one practice. No surprise that scouts gave him huge props for his toughness.
"I didn't want to let my team down, and if I could play, I was going to play," he explained on stage after being picked.
___
7:33 p.m. (8:33 p.m. EDT)
Welcome to the Rai-duhs Amari.
Oakland used the fourth pick to choose Amari Cooper out of Alabama, who immediately becomes the best receiver that beleaguered franchise has had in a while.
On the clock: The Redskins. The team fight song — "Hail to the Redskins" — is playing over the sound system at the auditorium.
___
7:30 p.m. (8:30 p.m. EDT)
When quarterbacks went 1-2 in the draft, Jaguars fans must have breathed a sigh of relief.
Former first-round picks Byron Leftwich, Blaine Gabbert, and Blake Bortles haven't brought many wins to Jacksonville's neck of the woods.
With the top QBs out of the mix, the Jaguars picked Florida defensive end Dante Fowler Jr., who was considered by some to be the best player available, even including Jameis Winston and Marcus Mariota.
Fowler was in the house in Chicago, wearing a white tuxedo with red piping and sparkling gold shoes. After walking onto the stage, he gave Roger Goodell a nice, long bear hug.
He figures to be an instant hit in Jacksonville, which isn't far from where he played college ball in Gainesville, Florida.
___
7:22 p.m. (8:22 p.m. EDT)
Marcus Mariota can bring his lei to Music City, y'all.
Mariota, who wore the flowers while watching the draft from home in Hawaii, is bound for the Tennessee Titans, who used the second pick on the Heisman winner.
Tennessee used all but about 60 seconds of its 10-minute time allotment before sending the pick in to NFL executives.
Most people thought the Titans were open to a trade, but it didn't come about.
Mariota and Jameis Winston are the sixth pair of QBs to go 1-2 in the draft since 1967, joining the likes of Jim Plunkett and Archie Manning (1971), Peyton Manning and Ryan Leaf (1998) and Andrew Luck and Robert Griffin III (2012).
___
7:11 p.m. (8:11 p.m. EDT)
Whew. The wait is finally over. Thank goodness. Now, the Tampa Bay Buccaneers get to stress out for the next three or four years to see what really comes of the first pick of the NFL draft — quarterback Jameis Winston of Florida State.
The Bucs put an end to months of speculation by selecting the talented-but-troubled signal caller, who won the Heisman Trophy in 2013.
Winston was not present in Chicago, choosing to watch the draft at home in Alabama.
(Oh, and Commissioner Roger Goodell got booed again when he came out to announce the pick.)
Winston apparently did enough to convince the owners of the first pick that he's worth the risk.
He's the first QB to be selected first since Andrew Luck in 2012. Winston is also the first player from Florida State, which produces gobs of NFL talent, to be picked first in the draft.
Tennessee is on the clock.
___
7:03 p.m. (8:03 p.m. EDT)
New York. Chicago. Some things just won't change.
Commissioner Roger Goodell, speaking at Grant Park in Chicago, gets booed heartily inside the auditorium while video of him officially opening the draft is played inside the auditorium.
Tampa Bay is on the clock.
___
6:30 p.m. (7:30 p.m. EDT)
Some news in the lead-up to the NFL draft, which starts in about a half-hour:
—The league denies a request from LSU offensive lineman La'el Collins to pull his name out of the draft and be placed in the supplemental draft later this year. Police want to talk to Collins, a projected first-round pick, about the slaying of his ex-girlfriend. He is not considered a suspect.
—The Titans, who hold the second pick, will entertain offers for that pick but those offers probably won't be coming from the Chargers. A report out of San Diego says quarterback Philip Rivers, in search of a contract extension, has been told he won't be traded.
—The Randy Gregory watch is on. The Nebraska pass rusher's stock has taken a hit since news hit that he tested positive for marijuana at the NFL scouting combine. Gregory was thought to be a top-10 pick, though some reports today speculate he has fallen completely off several teams' draft boards.
___
5:56 p.m. (6:56 p.m. EDT)
Are these clues? Or is he just trying to drive all those 12th men crazy?
Seahawks coach Pete Carroll is trying to generate some buzz over Seattle's draft, even though the Seahawks don't (currently) have a pick until the end of the second round – a selection that won't be made until tomorrow night.
Carroll is tweeting out #SeahawksDraftClues that, so far, involve a few skits from comedian Dave Chappelle's old — and very funny — TV show.
The draft starts in about an hour. The Auditorium Building at Roosevelt University in Chicago is starting to fill up.
___
3:51 p.m. (4:51 EDT)
Let's boil it down to the basics: A group of executives at 32 multimillion-dollar companies are about to spend several of those millions, and risk their company's future, on a 21-year-old college kid.
Welcome to the NFL draft.
Character issues are always on the front burner this time of year — and that's never more true than tonight, where NFL executives will take all their data and make life-changing decisions about a number of players who are flawed in different ways that have nothing to do with throwing, running or catching.
Scott Minto, director of the San Diego State Sports Business MBA program, says no amount of vetting, psychological profiling and background checking can ensure a team of making the right pick.
"You see these players who have transgressions in their past and how do you decide if this player's going to be a good employee or not?" Minto asks. "It's a lot of money to invest into someone who's 22 or 23 years old."
___
1:05 p.m. (2:05 p.m. EDT)
Well, it's not exactly March Madness. Then again, it wouldn't be a true sporting event if you didn't have a chance to win something based on the outcome, right?
As part of its never-ending and generally successful quest to make every date on its calendar an Event, the NFL has created a contest challenging fans to predict the top 32 picks in this year's draft. Winner gets an all-expense-paid trip to the season-opening game, Steelers at Patriots, on September 10th.
Much like the gazillions of bracket-filling contests that make the NCAA Tournament what it is, this contest offers chances to form leagues with your buddies, play against strangers and, of course, compete for the grand prize valued at around $4,800. This way, your future and your happiness as an NFL fan can hinge on every pick during tonight's four-hour extravaganza, not simply the one your favorite team makes.
Need help? Vegas is here for ya. The over-under on Alabama receiver Amari Cooper's draft position has been set at 4 1/2, per the Bovada website. Bovada has also set 1 1/2 as the over-under for number of running backs — an increasingly unpopular position in NFL-land — to be selected in the first round.
___
11:50 a.m. (12:50 p.m. EDT)
The Tampa Bay Buccaneers are on the clock. The Tennessee Titans are under the microscope.
With the hours ticking down until the start of the NFL draft in Chicago, the Bucs will surprise everyone if they don't use the top pick to take Jameis Winston, the troubled, talented quarterback out of Florida State. That surprise will turn to shock if they pass on both Winston and this year's other top quarterback, Heisman Trophy winner Marcus Mariota of Oregon.
What the Titans will do is less certain. The smart money says they'll take Mariota (or Winston if Tampa Bay unexpectedly passes), but Tennessee likes its current QB, Zach Mettenberger, and if the price is right, the Titans could trade that pick away.
Those potentially in the market for the Heisman winner: San Diego, which can't get an extension done with Philip Rivers; Philadelphia, whose coach, Chip Kelly, worked with Mariota at Oregon; and, yes, the Cleveland Browns, who have two first-round picks and aren't quite sure what they've got with last year's glamour pick, quarterback Johnny Manziel.
Only a little more than seven hours to go.
And, by the way, neither Winston nor Mariota will be on hand to shake Commissioner Roger Goodell's hand after they're selected. Winston will be watching from Alabama and Mariota is in Hawaii.
___
AP NFL website: www.pro32.ap.org and www.twitter.com/AP_NFL