Kentucky breaks 22-game road losing streak with 26-22 win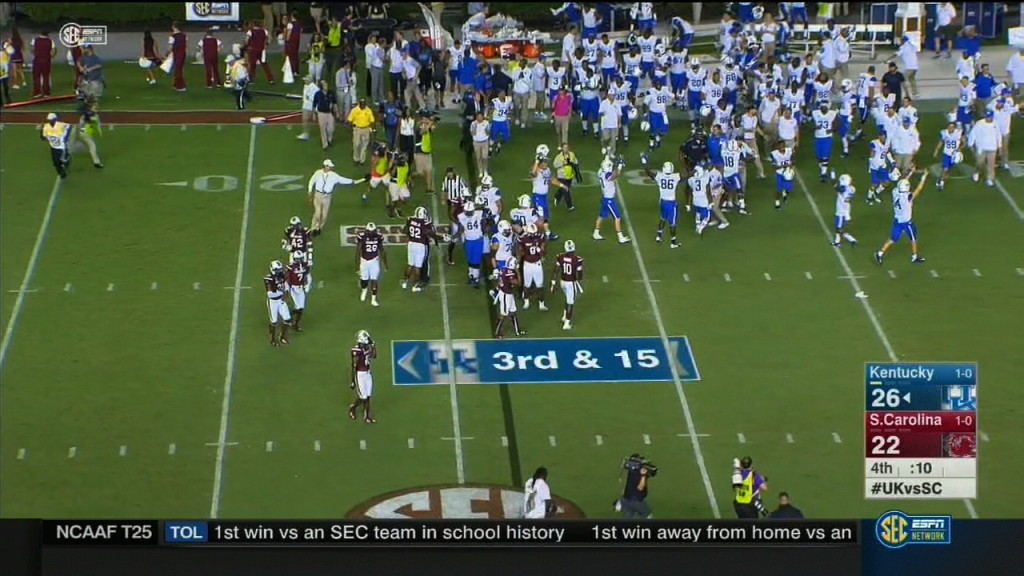 COLUMBIA, S.C. (AP) — Stanley "Boom" Williams ran for 107 yards on 14 carries as Kentucky held on to beat South Carolina 26-22 on Saturday night.
The Wildcats (2-0, 1-0 Southeastern) snapped a 22-game road losing streak despite gaining 92 yards and getting just four first downs in the second half.
South Carolina (1-1, 0-1) had a chance to tie on a two-point conversion midway through the fourth quarter, but Pharoh Cooper fumbled on the try and Denzil Ware returned the ball 98 yards to give Kentucky two points and what proved to be the final margin.
Cooper had nine catches for 100 yards. Junior quarterback Perry Orth took over for injured starter Connor Mitch. He was 13-of-20 for 179 yards, but threw an interception with 4:32 to go at the Wildcats 26 with the Gamecocks down four.
It was Kentucky's first SEC road win in six years.
___
AP college football website: collegefootball.ap.org