Newberry Ready To Kick Off Conference Play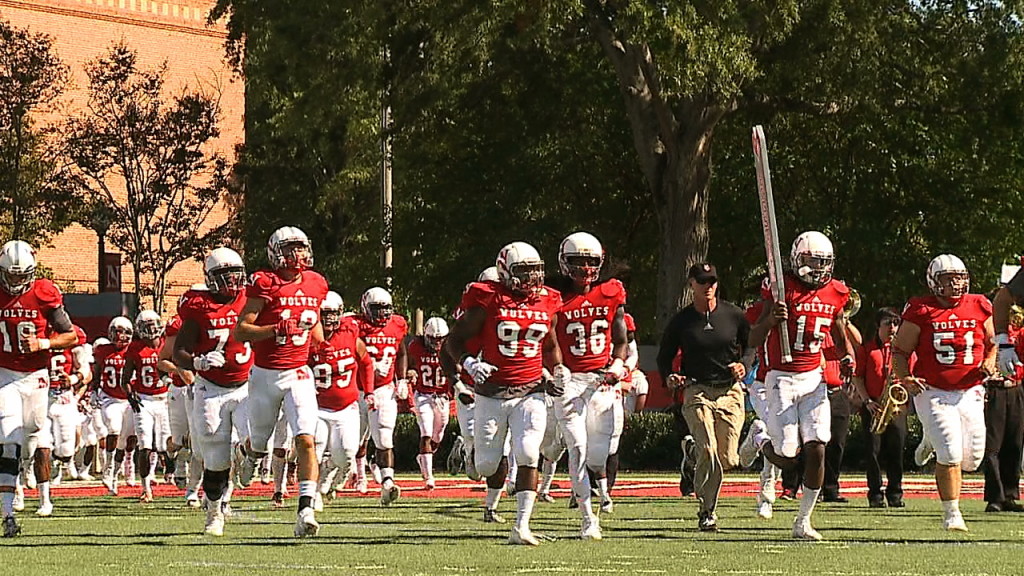 NEWBERRY (NC SID) — The Newberry College football team kicks off its South Atlantic Conference slate this Saturday, welcoming the Pioneers of Tusculum College to Setzler Field. Kickoff is at 4 p.m. Saturday for this year's Family Weekend contest. The football game is one of four home games for the Wolves on Saturday
WHO: Tusculum College at Newberry College
WHERE: Newberry's Setzler Field
WHEN: 4 p.m. on Saturday, September 26
RECORDS: Newberry is 2-1 overall and playing its first South Atlantic Conference game of the season. Tusculum is 1-2 overall and 0-1 in SAC action after a triple overtime loss to Lenoir-Rhyne last week.
LIVE VIDEO: http://www.NewberryWolves.tv
LIVE AUDIO: http://www.NewberryWolves.tv, WKDK-AM 1240 in Newberry County
LIVE STATS: http://www.NewberryStats.com 
FORECAST: High of 71 degrees, mostly cloudy with a 60 percent chance of storms. Winds up to 10 MPH.
NEWS AND NOTES
• The Newberry College Wolves kick off the South Atlantic Conference portion of the 2015 football season on Saturday, as the scarlet and gray host the Tusculum Pioneers.
• This is game number 994 for the scarlet and gray in season No. 102. Newberry has a 411-546-36 record.
• Newberry and Tusculum are meeting for the 18th time overall and the eighth time in Newberry. Tusculum won last year's meeting in miserable rainy conditions by a 16-14 score, breaking a five-year winning streak for the Wolves in the series.
• The game should feature constrasting offensive styles, as the Wolves will look to strike a balance between the run and the pass, while the Pioneers have a pass-to-rush ratio of over 2-to-1 through three games.
• The Newberry secondary will be tested, as the Pioneers lead the nation in passing offense. Look for Arnez Gray, Corey Dover, Craig Steedley, Brice Green and Devine Kelly to step up in the defensive backfield. Also key in coverage will be outside linebackers Will Elm and Nate Sichali.
• On the flip side of the coin, the explosive running back combination of Kevin Miller and Romelo Doctor will hope for big games, as Tusculum has the second-worst  rushing defense in the nation at 356.7 yards allowed on the ground per contest.
• The Wolves will hope to force Tusculum off the field quickly, just as they did against North Greenville, when Newberry held NGU to three-and-outs on eight of their 12 drives. Tusculum leads the conference in scoring offense, but is last in the league in scoring defense.
• Tusculum has managed to only give up two sacks in its first two contests, so Newberry will look to the defensive line and inside linebackers for pressure. Alstevis Squirewell and Josh Parker will rush off the ends, with Jalen Hunter and Brett Borders coming up the middle. Taylor McDonnell, Chase Austin and Anfernee Moffett will be key inside linebackers.
• Newberry is the top team in the conference in tackles for loss at 7.7 TFLs per game, while the Wolves' average of 2.67 sacks per game ranks second in the conference. The Wolves are in the top 50 nationally in both of those categories.