W.H.O. Declares Zika Virus a Global Health Emergency, First Time Since Ebola
(ABC News) — The World Health Organization declared today that the Zika virus has reached the status of a global emergency.
By deciding to declare that the mosquito-borne virus is a "public health emergency of international concern," it allows more money, resources and scientific research to be dedicated to addressing the growing disease.
This is the fourth time that the international organization used such a classification. Previous incidents included the Ebola outbreak in 2014, a resurgence of polio earlier that same year, and the H1N1 pandemic in 2009.
The connection between the Zika virus and other neurological disorders is "strongly suspected, though not yet scientifically proven," said Margaret Chan, the director-general of the WHO, referring to both the microcephaly birth defects and the rare cases of paralysis known as Guillain-Barre syndrome.
She noted that the WHO "found no public health justification for restrictions on travel or trade to restrict the spread of the Zika virus."
There are now 25 countries affected by the Zika virus, Chan said, which marks an increase from earlier reports.
The current outbreak of the virus, which has been linked to babies being born with a birth defect known as microcephaly — abnormally small heads — has been traced back to Brazil, and it has since spread to a growing number of countries in Central and South America, as well as dozens of cases reported in the U.S. among people who had traveled to the region recently.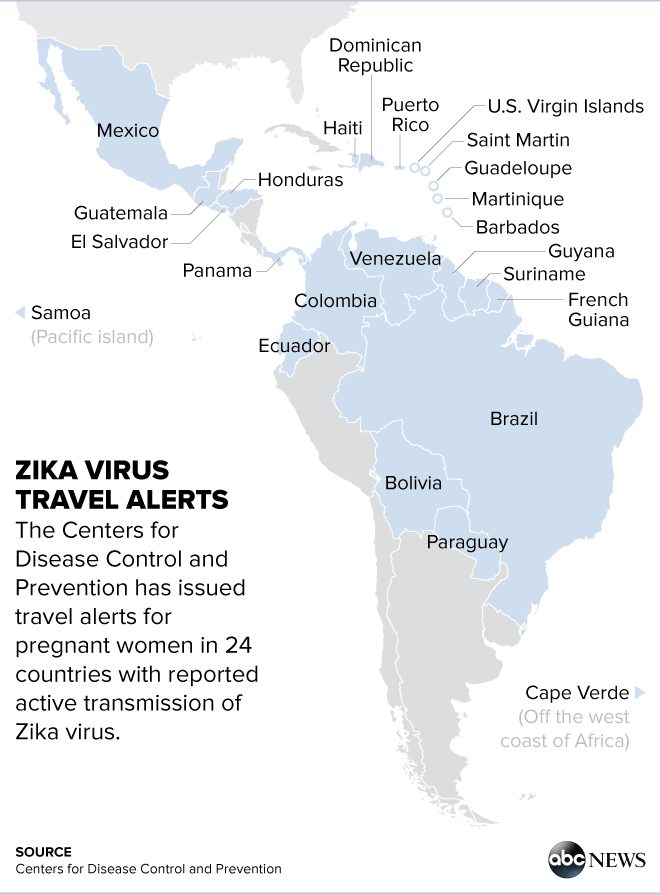 President Obama spoke to Brazilian President Dilma Rousseff on Friday about the ways that the countries can work together to address the growing issue.
"The leaders agreed on the importance of collaborative efforts to deepen our knowledge, advance research, and accelerate work to develop better vaccines and other technologies to control the virus," the White House press office said in a statement Friday. "The leaders agreed to continue to prioritize building national, regional, and global capacity to combat infectious disease threats more broadly."