VIDEO: Violence Breaks Out at Trump Rally in San Jose


Donald Trump's rally in San Jose, California, Thursday night was marred by violence by anti-Trump supporters, who targeted the event's attendees and police.
The San Jose Police Department said it "made a few arrests" following the rally, and an officer was assaulted. A spokesperson said Thursday night, "As of this time, we do not have specific information on the arrests made. There has been no significant property damage reported."
Trump's foes surrounded the San Jose Convention Center, where scuffles broke out between them and Trump supporters. Some of the altercations were physical, resulting in bloody injuries, as depicted in the video below.
Our video of Trump supporter who says he was beaten up coming out of @realDonaldTrump rally. pic.twitter.com/PQSxjXfonl

— Tom Llamas (@TomLlamasABC) June 3, 2016
Some anti-Trump protesters also surrounded the car of a presumed Trump supporter as the vehicle was leaving the convention center's garage. Protesters were shaking the car, and smashed its taillight. Protesters also surrounded police cars, also banging those vehicles.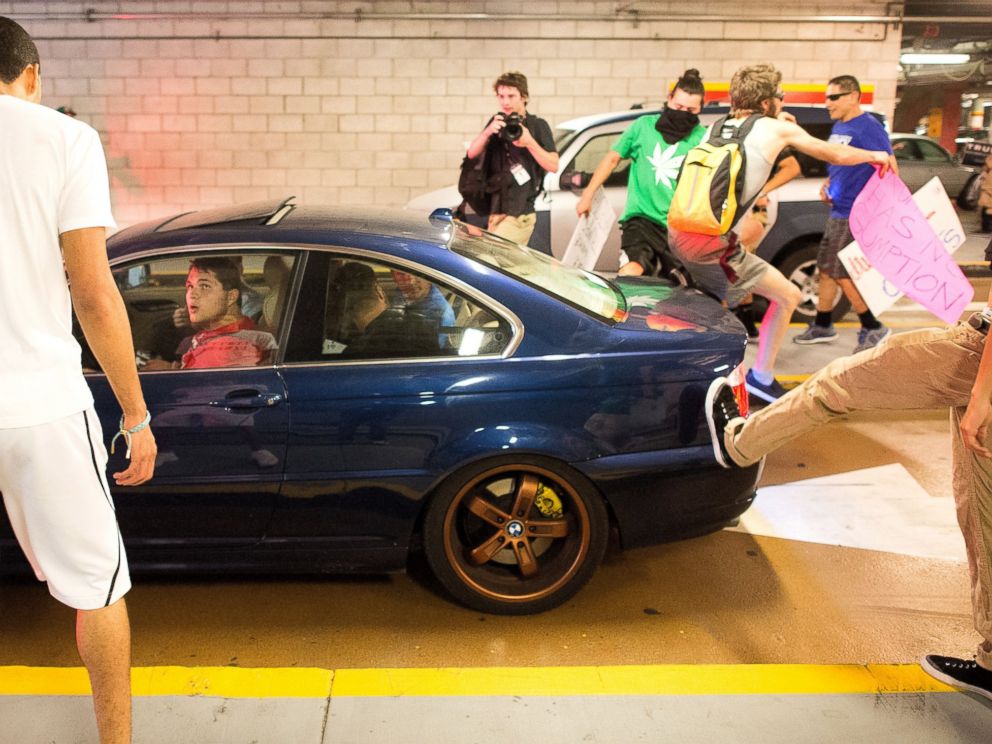 AP Photo/Noah Berger
Protesters against Republican presidential candidate Donald Trump kick and jump on a car leaving a Trump campaign rally on Thursday, June 2, 2016, in San Jose, Calif.
Protesters burn a #Trump2016 Make America Great Again hat after rally pic.twitter.com/RVvn8dC1SG — Alex Stone (@astoneabcnews) June 3, 2016
Attendees of the rally heading back to their cars were egged, followed and intimidated by some of the anti-Trump protesters. At one point, a large group of protesters surrounded a Trump supporter, throwing bottles and spitting at him as he walked back to his vehicle.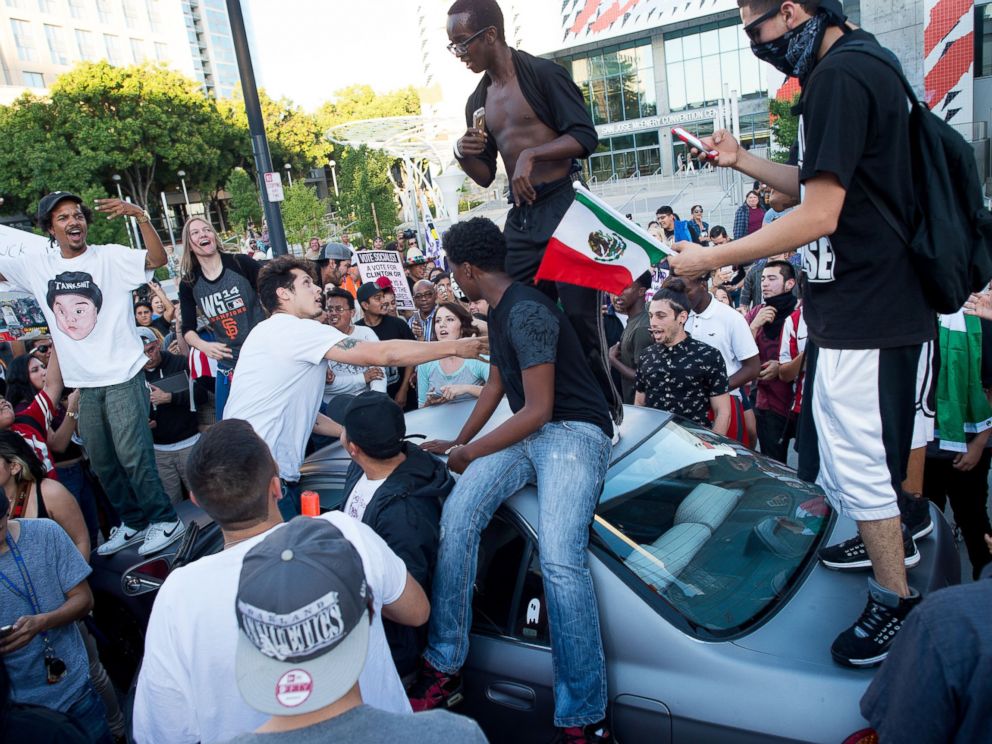 AP Photo/Noah Berger
Protesters against GOP presidential candidate Donald Trump climb on a car outside a Trump campaign rally on Thursday, June 2, 2016, in San Jose, Calif.
Protestors made up mostly of young ppl. Some throwing up gang signs. There were ppl who came to demonstrate & some who just wanted to brawl

— Tom Llamas (@TomLlamasABC) June 3, 2016
Police had been completely overwhelmed by the protesters. Now trying to regain some order. pic.twitter.com/QUXcNZgVbq

— Candace Smith (@CandaceSmith_) June 3, 2016
Police instructed protesters over loud speakers to return home, but at one point, between 100 and 200 protesters remained, taunting riot gear-wearing police. As about 200 police officers began marching in lines pushing the crowd out of downtown San Jose, some protesters threw street signs and empty cans.
BREAKING: The police in San Jose have appeared to lost control. Trump supporters being terrorized and beaten up by mobs of protestors.

— Tom Llamas (@TomLlamasABC) June 3, 2016

Before the violence outside the convention center kicked into high gear, rally-goers listened to the presumptive Republican nominee go after Hillary Clinton, just hours after the Democratic presidential hopeful gave a long speech on foreign policy Trump described as "pathetic."
"I watched Hillary today, it was pathetic," Trump said. "It was pathetic. It was so sad to watch and you know she's up there and supposed to be a foreign policy speech, it was a political speech."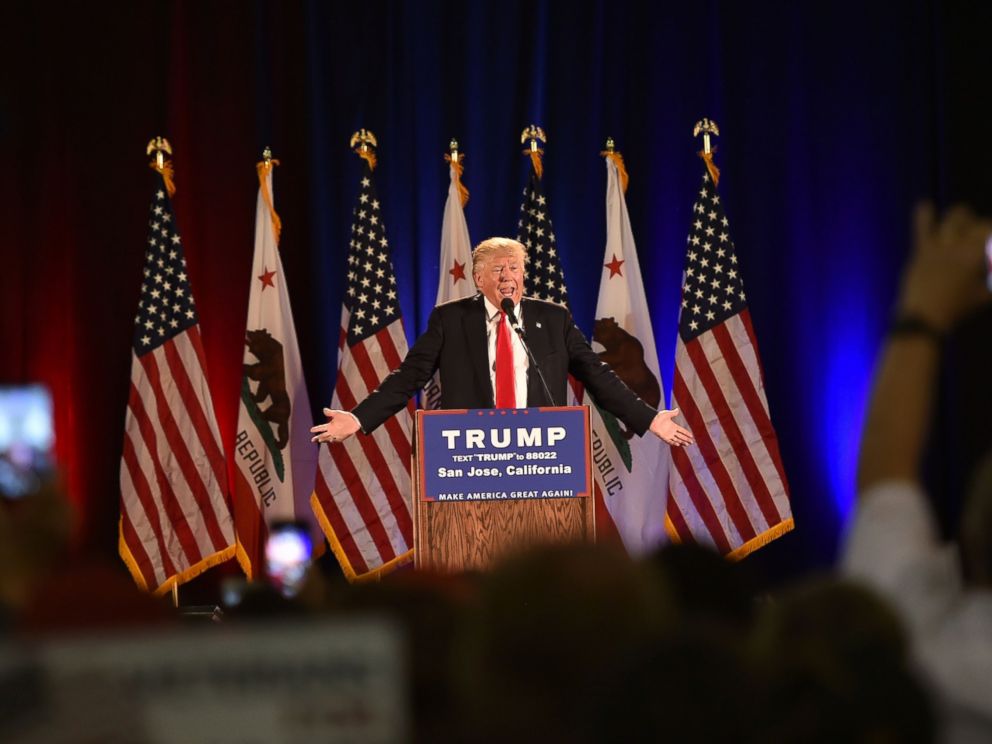 The drum beat of Trump's attacks on the former Secretary of State have only grown louder in the last several weeks, as he also targets her husband, former President Bill Clinton and President Obama. "Anything Obama wants she's going forward with because you know why? She doesn't want to go to jail that's why folks," Trump said. "Bill Clinton hated [Obama.] And Hillary Clinton hated Obama. The only reason she's behaving like this, and the only reason she's been dragged so far left, believe me, is she doesn't want to go to jail over the emails, okay? Believe me. That's the only reason."
Trump also attempted to endear himself to Hispanics, when he spotted a certain sign among the sea of supporters. "Latinos for Trump, that's what I like — I love that," he said. "Latinos! We're doing well with the Latinos. Nobody knows about it yet. We're bringing so many jobs in, you watch what happens. The Hispanics, we love the Hispanics!"
ABC News' Tom Llamas and Alex Stone contributed to this report.