Donald Trump Sworn In as 45th President of the United States
Donald Trump was officially sworn in as the 45th president of the United States after a long and divisive campaign.
Trump, seated in front of his wife Melania and children and directly next to former President Barack Obama, looked reserved throughout the inauguration ceremony.
Both he and Vice President Mike Pence were sworn in by Supreme Court Justice Clarence Thomas.
Trump's political opponent, Democratic presidential nominee and former first lady Hillary Clinton was seated just across the platform alongside her husband former President Bill Clinton.
Earlier today, the president and Melania attended a church service at St. John's Episcopal Church and then had tea with the Obamas and political leaders at the White House before coming to the Capitol.
The new president is dressed in a suit and his signature red tie while the new first lady chose a custom-designed Ralph Lauren sky blue cashmere mock turtleneck dress with a matching cropped cashmere jacket and long suede gloves.
The inauguration of the controversial real estate mogul and former reality television star will largely follow tradition, but there will be several unique changes as well.
A Pointed Message
Pastor Robert Jeffress of First Baptist Dallas led the service today at St. John's Episcopal Church.
Jeffress is a familiar face to Trump and his eagle-eyed supporters; he has appeared with Trump at many rallies on the campaign trail.
"I'm not going to lecture the new president," Jeffress said during an interview with Fox NewsThursday night.
Jeffress said he intends to "encourage" Trump by comparing him "to another great leader God chose."
"[God] told Nehemiah to build a giant wall around Jerusalem to protect the citizens so I'm going to use Nehemiah's story as an example of why God blesses leaders," Jeffress said.
Rundown of the Day
The day's schedule of events follows the familiar pattern of inaugurations of the past: the Trumps stayed overnight at Blair House, located across the street from the White House, and attended a traditional service at St. John's Church.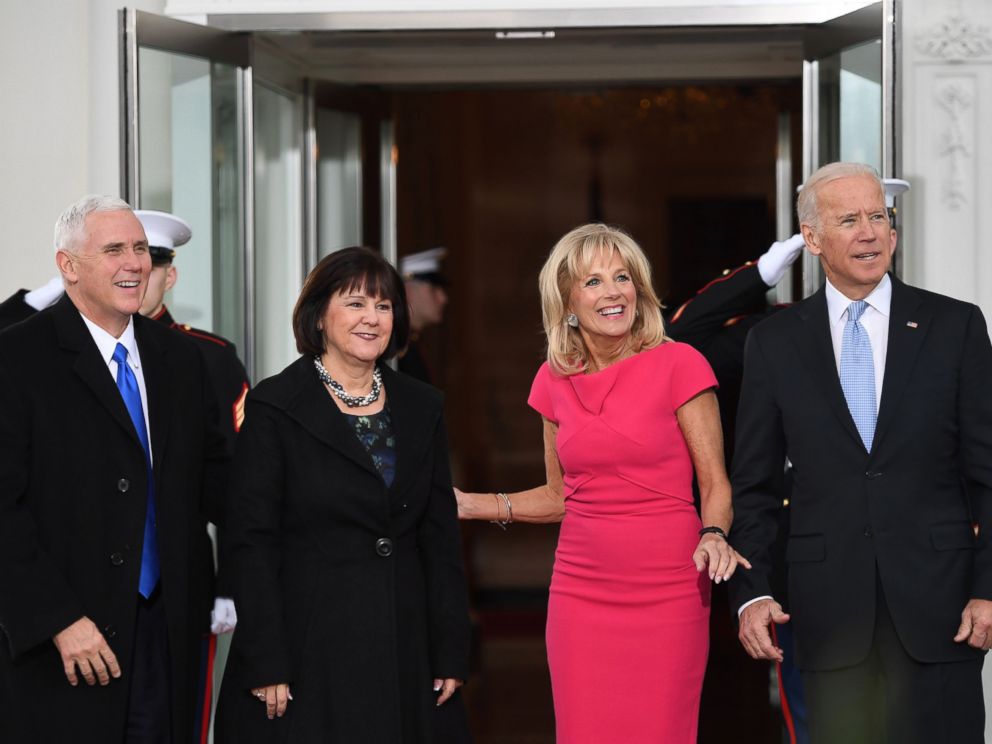 The Trumps sat down for tea with the Obamas before proceeding to the Capitol. Melania was seen handing Michelle a box from jeweler Tiffany & Co. Also present at the White House: the Pences, the Bidens, Senate Majority Leader Mitch McConnell, Senate Minority Leader Chuck Schumer, House Speaker Paul Ryan, House Minority Leader Kevin McCarthy and Minority Leader Nancy Pelosi.
Trump will take the oath of office promptly at noon, which marks the official transfer of power.
The inaugural address comes toward the end of the outdoor ceremony, and shortly after that, Obama will leave and Trump will attend a luncheon before the rest of the scheduled events — including the parade and various balls — fill out the landmark day.
Heavy Hitters
Trump's cabinet-level picks and former presidents have taken their seats at the Capitol ahead of the swearing-in ceremony. Rick Perry, Nikki Haley, Betsy DeVos, Steve Mnunchin and Elaine Chao are all present.
Former President Clinton and Hillary arrived at the Capitol together. Hillary Clinton, who won the popular vote by roughly 3 million ballots, is wearing a long white coat — the same color she wore at a number of major campaign events. White holds special significance for the Suffragette movement.
Former President Jimmy Carter and former First Lady Rosalynn Carter have arrived along with former President George W. Bush and his wife Laura. Bush, when asked how his parents George H.W. and Barbara Bush are feeling, replied that they're "doing better." Both were hospitalized in Texas this week and are not attending today's inauguration.
Former politicians including Bob Dole, Dick Cheney, Newt Gingrich and Rudy Giuliani have taken their seats at the Capitol. Several current senators, including former presidential candidates Bernie Sanders and John McCain, were seen laughing together as they waited for the ceremony to begin.
Mixing Tradition With Personal Touches
Trump has chosen two Bibles for his swearing-in ceremony: his childhood Bible and President Lincoln's Bible. The only other president to use Lincoln's Bible was Barack Obama in 2009 and 2013.
Unlike previous inaugurations, the lineup of performers has largely been kept quiet. Jackie Evancho, a 16-year-old "America's Got Talent" alum, will be singing the national anthem.
Another abnormal facet of the day will be the sizable number of congressional Democrats who have announced they are skipping the inauguration. The latest count has one-third of all House Dems boycotting the ceremony. There is no modern precedent for a planned political boycott of this scale.
The boycott does not appear to have shaken Trump, who used his most common form of communication to make his first statement of the day.