Trump extends social distancing guidelines to April 30
More than 33,000 people have been killed around the world as the amount of novel coronavirus cases continues to skyrocket, with the number of diagnosed COVID-19 cases globally surpassing 713,000 on Sunday.
The number of cases has grown exponentially in a matter of weeks. Last Thursday, there were 500,000 cases worldwide, which was double the number of worldwide coronavirus cases from the week before.
The U.S. stood at more than 136,000 diagnosed coronavirus cases on Sunday, according to data compiled by the Center for Systems Science and Engineering at Johns Hopkins University. There are at least 2,409 deaths in the country.
At least 148,000 people have recovered from the virus during this pandemic.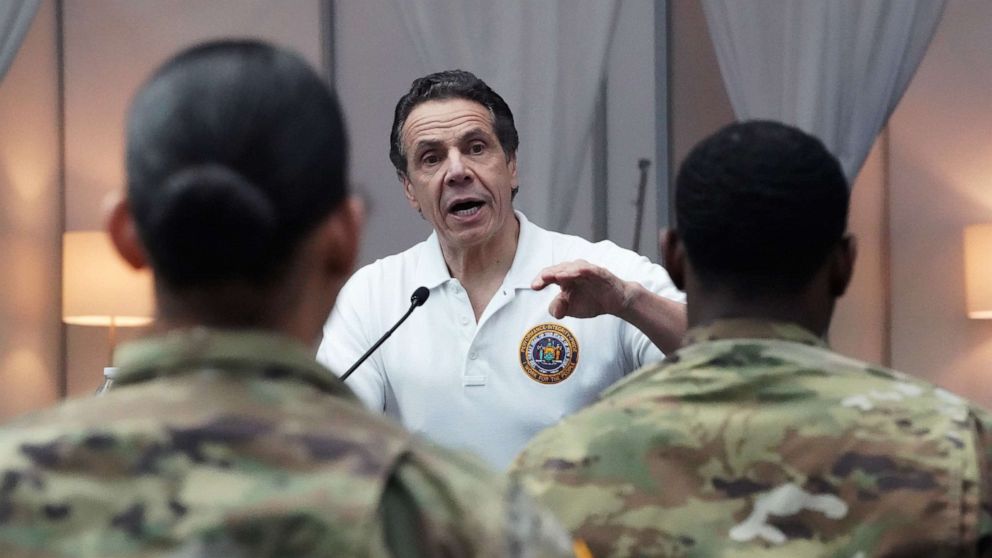 Today's biggest developments:
Tump extends U.S. coronavirus guidelines to April 30
Fauci says U.S. could see 100,000-200,000 deaths
Global deaths top 30,000
Trump will not use enforceable quarantine in NY
US cases cross 135,000; deaths top 2,000
7:03 p.m.: 15-minute coronavirus test is on the way
A new 15-minute coronavirus test is on its way to doctor's offices and hospitals now, officials announced at Sunday's White House Task Force briefing.
Admiral Brett Giroir said that Abbott Laboratories will be providing 50,000 of the tests per day, starting April 2.
Giroir said that "18,000 of these little toaster-sized machines" are in doctor's offices and hospitals now.
He also said that the test is performed with a self-nose swab, unlike the less comfortable tests that require a swab to go far up the nasal passage.
As of the close of business Saturday, 894,000 coronavirus tests has been performed in the U.S., Giroir said.
6:12 p.m.: Trump extends U.S. coronavirus guidelines to April 30
President Trump officially reversed his call to reopen businesses by Easter and said he will extend the nation's coronavirus social distancing guidelines to April 30.
"The modelling estimates that the peak in death rate is likely to hit in two weeks," Trump said at his daily briefing at the White House. "Nothing would be worse than declaring victory before the victory is won."
The guidelines cover work from home directives, travel limitations, business closures and other efforts to combat the virus. Trump said that his office will give more details about the new plans on Tuesday.
"We can expect that by June 1st, we will be well on our way to recovery," Trump said. "We think by June 1st, a lot of great things will be happening."
The announcement came just days after the president said he hoped that Easter would be a celebration of the virus' defeat.
Dr. Anthony Fauci, director of the National Institute of Allergy and Infectious Diseases, said the new extensions are a "wise and prudent decision."
In the interim, Trump said that his public health advisers recommended against loosening social distancing restrictions in states or regions that haven't been as hard hit by the virus, as had previously been discussed.
The president said data suggested that up to 2.2 million people would die if nothing was being done to stem the virus.
5:25 p.m.: White House asks hospitals to send daily data updates
The White House is asking the nation's private hospitals to send their coronavirus testing data to the federal government every day by 5 p.m.
The request came in a letter sent by Vice President Mike Pence, who chairs the White House Coronavirus Task Force.
Many of the hospitals already send the data to their state governments, but Pence said the CDC needs the data to "better understand disease patterns."
"As you know, partnership is essential as we work together to address the COVID-19 pandemic. To that end, we are requesting your assistance with reporting data that is critical for epidemiological surveillance and public health decision making," he wrote in the letter.
During a meeting with supply chain operators, President Trump also accused some hospitals of hoarding ventilators and other equipment.
"We have to release those ventilators, especially those hospitals that are never going to use them," he said.
4:05 p.m.: Texas increases travel restrictions for more states
Texas Gov. Greg Abbott announced the state will mandate self-quarantine orders for travelers from several locations.
The state already ordered 14-day self-isolation for any traveler from New York City and New Orleans airports. Now the quarantine mandate will be issued for travelers from Miami, Atlanta, Detroit, Chicago, all California airports and all Washington state airports.
Non-commercial drivers from Louisiana who travel into Texas will also have to self-isolate.
3:32 p.m.: Country music artist Joe Diffie dies after coronavirus diagnosis
Grammy-winning country music star Joe Diffie died from COVID-19 complications, according to his representatives.