Clemson Drops Opener To Maine, 6-5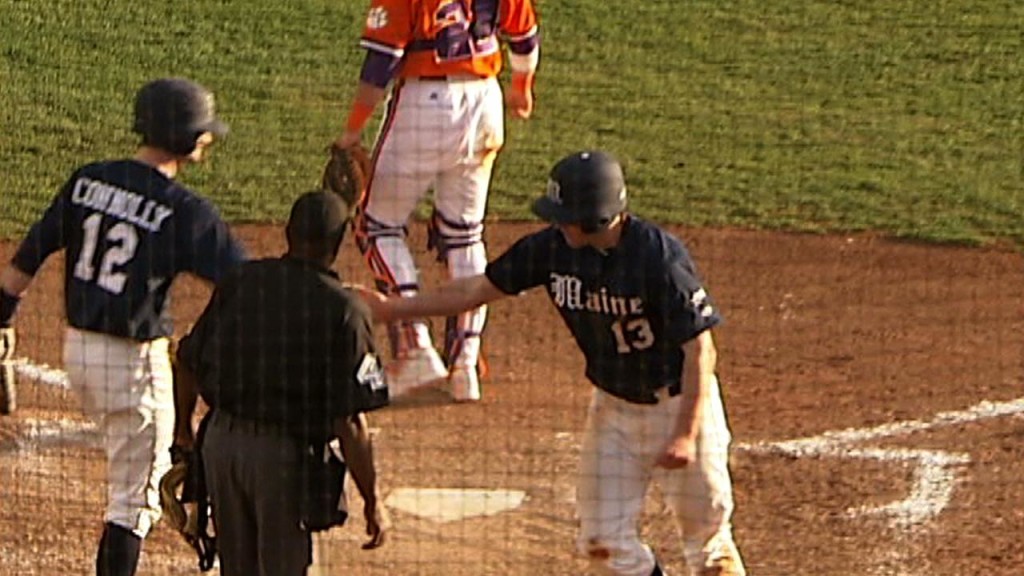 CLEMSON, S.C. (CU SID) — Maine scored all six of its runs on two-out hits and held on to edge #16 Clemson 6-5 at Doug Kingsmore Stadium on Friday afternoon. Maine improved to 1-0 on the season and took a 1-0 series lead, while the Tigers dropped to 2-2 in 2012. The Black Bears built a 4-0 lead with two runs in both the fifth and sixth innings, then the Tigers rallied with four runs in the seventh inning to tie the score. But Maine responded with two more runs on two, two-out singles in the eighth inning to take a 6-4 lead. Clemson put runners at second and third with one out in the ninth inning, but the Tigers could only manage one run and dropped their second one-run decision in 2012. Jonathan Balentina (1-0), the third of four Black Bear pitchers, earned the win by tossing 1.1 hitless innings in relief. Shaun Coughlin, Maine's scheduled starting pitcher for game-three on Sunday, recorded the save by retiring all three batters he faced. Tiger reliever Jonathan Meyer (0-1) suffered the loss, as he yielded two runs on three hits in 0.2 innings pitched. Starter Kevin Brady pitched 5.0 solid innings, allowing just four hits, no earned runs, and no walks with five strikeouts. After four scoreless innings to start the game, the Black Bears broke through in the fifth inning to take the game's first lead. Mike Connolly reached with two outs on an error and Colin Gay followed with a two-run homer down the left-field line, his first long ball of the season. In the sixth inning, Ian Leisenheimer reached on a one-out, infield single and Alex Calbick followed with a bloop single to right field. Two batters later with two outs, Fran Whitten lined a single to right field to score pinch-runner Sam Balzano. Brian Doran then lined a single down the left-field line to score Calbick, giving Maine a 4-0 lead. Basketball Gear – Shop Now!
Clemson finally dented the scoreboard in the seventh inning with the help of the Black Bears' third error of the game. Pinch-hitter Dominic Attanasio reached on an error with one out and Thomas Brittle followed with a single to right field. Stephen Wilkerson then belted a double off the wall in left field to score Attanasio and Brittle. Richie Shaffer came through with a line-drive double to left field to plate Wilkerson, then Phil Pohl tied the score with a single to right-center that scored Shaffer. The Black Bears came right back and regained the lead in the eighth inning. Calbick drew a one-out walk and advanced to second base on Justin Leisenheimer's check-swing groundout to third. Whitten followed with a two-out single to left-center to score Calbick. After Doran singled to left-center, Connolly grounded a single through the left side to plate Whitten, upping Maine's lead to 6-4. In the ninth inning, Shaffer and Pohl led off with walks, both on four pitches, then Jon McGibbon's sacrifice bunt moved the runners up a base. Spencer Kieboom lined out to left-center to score Shaffer on the sacrifice fly to cut Maine's lead to 6-5, but Brad Felder flied out to left field to end the game. Gay, Calbick, Whitten, and Doran all had two hits apiece to pace Maine, who outhit Clemson 12-10. Brittle and Pohl had three hits apiece, while Wilkerson had a team-high two RBIs to lead the Tigers, who stranded 11 runners on base. The loss was Clemson's first in 15 all-time games against Maine, Head Coach Jack Leggett's alma mater. Friday's matchup was the first meeting between the two teams since 2003. Clemson and Maine will play game-two of the three-game series on Saturday at 4:30 PM.