Clemson Wins Miami Series Opener 3-1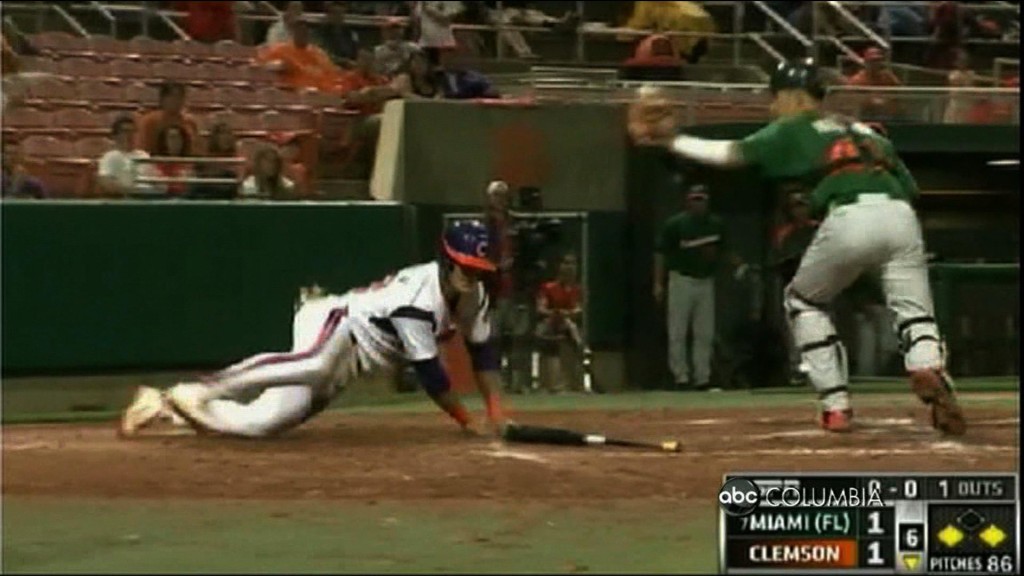 Clemson, S.C. (CU SID) — Relievers Matt Campbell and Scott Firth combined to allow only one hit, no runs, and no walks with nine strikeouts in the final 5.2 innings pitched to lead Clemson to a 3-1 victory over #7 Miami (FL) at Doug Kingsmore Stadium on Friday night. The Tigers, who took a 1-0 lead in the series, improved to 13-12 overall and 4-6 in the ACC. The Hurricanes fell to 20-6 overall and 7-3 in ACC play. It was the first meeting between the two since 2009. The Tigers scored a run in the first inning, then Miami tied the score with a run in the second inning. The two teams were both scoreless during the next three frames until the sixth inning, when Clemson scored the game's final two runs. Meanwhile, Campbell and Firth limited a Hurricane squad that entered the game with a .300 batting average to only one hit in the final six innings. Campbell (1-2) established career highs for innings pitched (4.0) and strikeouts (7) to earn the win. He gave up just one hit, no runs, and no walks. Firth recorded his first career save by tossing 1.2 perfect innings with two strikeouts. Kevin Brady, Campbell, and Firth combined for 13 strikeouts and did not allow a Hurricane leadoff batter of an inning to reach base. Miami starter Eric Erickson (4-3) suffered the loss. In 6.0 innings pitched, he yielded seven hits, three runs, and two walks with six strikeouts. Steve Wilkerson led off the game for the Tigers with a single to right-center to extend his hitting streak to 13 games and moved to second on a balk. Three batters later with Wilkerson on third base and two outs, Phil Pohl slapped an 0-2 pitch off the pitcher for an infield single to score Wilkerson.
In the second inning, Stephen Perez lined a one-out single to center and stole second. Esteban Tresgallo walked, then both runners moved up a base on a balk. Jarred Mederos drove home Perez with a groundout to second to tie the score. After both teams squandered scoring opportunities, the Tigers broke through with two runs in the sixth inning to regain the lead. Jon McGibbon led off with a single to left-center on an 0-2 pitch and moved to second on the play when centerfielder Dale Carey booted the ball. McGibbon advanced to third base on Spencer Kieboom's groundout to short. After Dominic Attanasio was hit-by-pitch, Thomas Brittle lofted a sacrifice fly to shallow right field to score McGibbon. Attanasio stole second, then Wilkerson laced a two-out double down the left-field to score Attanasio. Miami's only hit after the third inning came on a one-out, bloop single in the eighth inning off the bat of Rony Rodriguez. Wilkerson, McGibbon, and Brittle had two hits apiece to lead Clemson, who totaled eight hits and three stolen bases in the contest. Brittle went 2-for-3 with an RBI in his return to the starting lineup. He did not start the previous seven games due to a finger injury. Perez had a single and scored the lone run for Miami, who amassed a season-low four hits, all singles. Clemson and Miami will play game-two of the three-game series on Saturday at 4:00 PM. The game will be televised live by ESPNU.