Clemson Loses ACC Tourney Opener To Virginia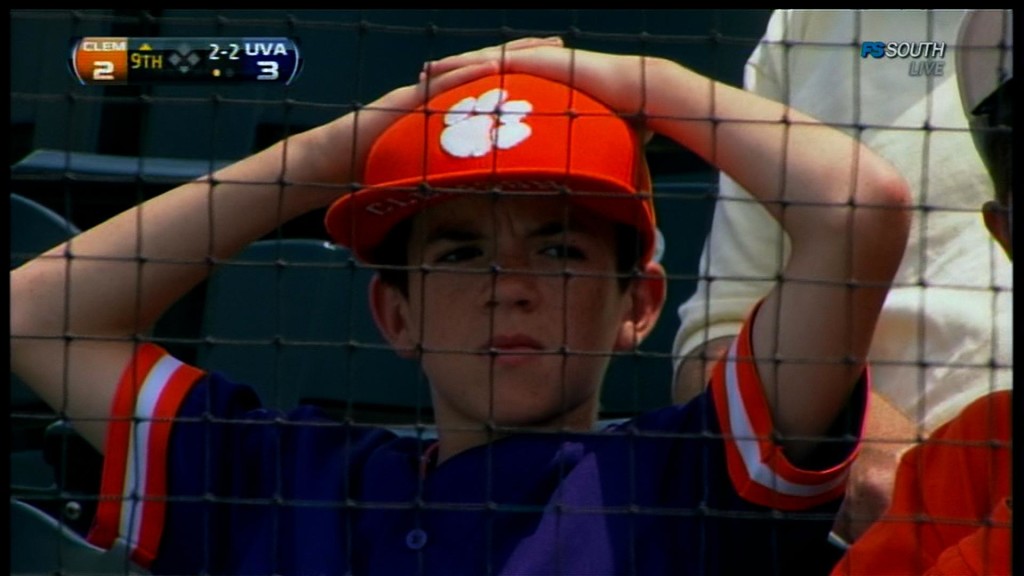 GREENSBORO, N.C. (CU SID) — With two outs, the bases empty, and trailing 2-1 in the eighth inning, #17 Virginia used a single, two hit-by-pitches, and two walks to score two runs in the frame and defeat Clemson 3-2 in the ACC Tournament in front of 3,331 fans at NewBridge Bank Park on Thursday. The Cavaliers, who moved to 1-0 in the ACC Tourney, improved to 37-16-1 on the season. The Tigers, who fell to 0-1 in the ACC Tournament, dropped to 32-25 in 2012. Jon McGibbon's solo homer in the sixth inning tied the score 1-1, then Clemson took advantage of two Virginia miscues in the top of the eighth inning to score another run. But Virginia put together a two-out rally, as five straight Cavaliers reached base with two outs to allow them to score two runs. Kyle Crockett (5-2), the second of three Virginia pitchers, earned the win. He allowed one hit, one unearned run, and no walks with two strikeouts. Justin Thompson pitched 0.2 hitless and scoreless innings to record his 12th save of the season. Starter Branden Kline tossed 7.0 strong innings, as he surrendered only four hits, one run, and five walks with five strikeouts. The four Virginia pitchers combined to allow just two of Clemson's 15 baserunners to score and held the Tigers to 0-for-10 with runners in scoring position. Tiger reliever Mike Kent (1-2) suffered the loss, as he gave up two runs on one hit in 0.2 innings pitched. Daniel Gossett, like Kline, was effective in a starting role. He yielded just four hits, one run, and six walks with six strikeouts in 6.2 innings pitched. The Cavaliers broke through with the game's first run in the third inning. Branden Cogswell was hit-by-pitch with one out. Two batters later with two outs, Derek Fisher walked. Jared King followed with a line-drive single to left field on an 0-2 pitch to score Cogswell. Father's Day Gifts – Shop Now!
Clemson put its first two batters of the fourth inning on base when Jay Baum reached on an error and McGibbon singled. But Spencer Kieboom flied out and Jason Stolz lined into a double play to end the inning. In the fifth inning, Steve Wilkerson led off with a walk and moved to second two batters later on Richie Shaffer's walk. With one out, both runners moved up a base on a wild pitch, but the next two Tigers were retired. Clemson put nine batters on base in the first five innings, but failed to score. McGibbon finally put the Tigers on the scoreboard in the sixth inning when he belted a solo homer to right field, his fourth long ball of the season. In the top of the eighth inning, leadoff batter Brad Felder reached on a passed ball after striking out. Two batters later with one out, Felder stole second. McGibbon followed with a grounder to shortstop Chris Taylor, who booted the ball, allowing Felder to score the go-ahead run. In the bottom of the eighth inning, the first two Cavaliers were retired. However, Brandon Downes lined a two-out single to right field, then Nate Irving was hit-by-pitch. After pinch-hitter Kenny Towns walked on six pitches to load the bases, Taylor was hit-by-pitch to plate pinch-runner Mitchell Shifflett and tie the score. Cogswell then walked on five pitches to score the go-ahead run in Irving. Shaffer walked for the fourth time in the game with one out in the ninth inning, but Phil Pohl grounded into a 6-4-3 double play to end the game. King went 1-for-2 with an RBI and two walks to lead Virginia, who had only five hits, all singles. However, Virginia batters combined for eight walks and three hit-by-pitches. Stephen Bruno added a single to extend his hitting streak to 10 games. All three RBIs for the Cavaliers came with two outs. McGibbon had a game-high two hits, including Clemson's only RBI on his solo homer. The Tigers stranded 11 runners on base. Clemson will take on top-ranked and #1-seeded Florida State on Friday at 3:00 PM in the ACC Tournament. The Tigers' only path to the ACC Tournament Championship game is if Clemson wins its final two games and Virginia loses its final two games in Greensboro.