Loftis to seek second term as SC treasurer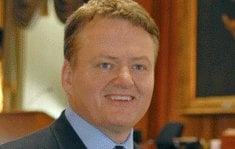 COLUMBIA, S.C. (AP) — South Carolina Treasurer Curtis Loftis says he'll seek a second term as one of the state's top financial officers.
Loftis said in an email to supporters Monday that he feels he has been successful since his election in 2010 but feels there is more work to be done.
Loftis touted his efforts at making the state's spending practices more transparent, including putting travel expenses online. He also mentioned ongoing efforts to reform the state's $25 billion state pension fund.
Some had speculated that Loftis would challenge Gov. Nikki Haley for the GOP gubernatorial nomination in 2014. But in his email, Loftis said he will formally announce his re-election campaign later this year.