Extramarital dating billboard features Sanford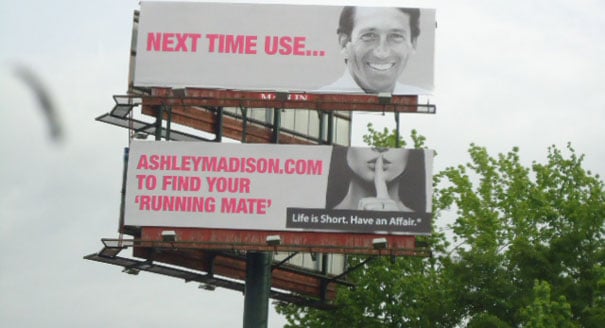 COLUMBIA, S.C. (AP) — A website that connects people seeking casual and extramarital affairs has put up a billboard featuring the face of former South Carolina Gov. Mark Sanford.
The ad went up Monday on Interstate 26 about 25 miles south of Columbia. It features the Republican's smiling face and the words, "Next time use … AshleyMadison.com to find your 'running mate.'"
AshleyMadison.com touts itself as "the most famous name in infidelity and married dating." Founder Noel Biderman told The Associated Press Tuesday his company launched the ad to coincide with Sanford's campaign for the 1st Congressional District. Biderman says infidelity doesn't affect someone's ability to lead.
Sanford admitted in 2009 to an affair with an Argentinian woman to whom he is now engaged. His campaign said Tuesday it's focused on the election.
___
Kinnard can be reached at http://twitter.com/MegKinnardAP