SC man accused of killing son's 6-month-old puppy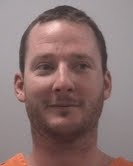 IRMO, S.C. (AP) — A Lexington County man is accused of killing his son's 6-month-old puppy.
Sheriff James Metts said Wednesday 37-year-old John Scott Mill had been arrested at his Irmo apartment and charged with ill treatment of animals.
Metts says Mill tortured the family's Labrador retriever Monday by taping its mouth shut and keeping it inside a closet without food or water. Deputies say the dog's body was found the next day by movers helping the family to relocate.
Deputies say the movers gave the dog to Mill, who took the tape off its mouth and threw its body in a dumpster before driving away. The movers called authorities.
Mill was jailed Wednesday and could face five years in prison if convicted. It wasn't known if he had an attorney.