Richland Co. Sheriff's Department Unveils New Patrol Cars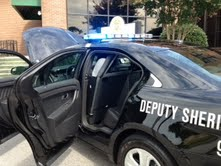 RICHLAND CO., S.C. (WOLO)–The Richland County Sheriff's Department has some new wheels.
Friday Sheriff Leon Lott unveiled the department's new Ford Police Interceptor sedans and the department's new color scheme.
   The sheriff says the new cars will become instantly recognizable in the Midlands. The new patrol cars hit the streets Friday.