Ellington Returns To Practice Thursday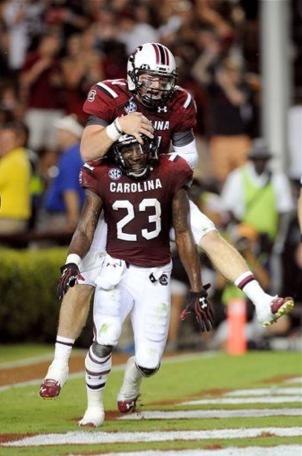 COLUMBIA, S.C. (USC SID) — The No. 11/9 South Carolina football team worked out at the Bluff Road practice fields on Thursday afternoon. Preparations are winding down for Saturday's SEC Eastern Division matchup between the Gamecocks (5-1, 3-1 SEC) and the Tennessee Volunteers (3-3, 0-2 SEC).
Wide receiver Bruce Ellington (ankle) and linebacker Skai Moore (concussion) returned to "full go" at practice on Thursday. Those who remained in yellow "non-practice" jerseys were safety Chaz Elder (concussion), right guard Ronald Patrick (ankle), defensive tackle J.T. Surratt (ankle), center Cody Waldrop (ankle), running backBrandon Wilds (elbow), offensive tackle Mike Matulis (shoulder) and defensive end Devin Washington(concussion).
Ward confirmed that Elder would not play on Saturday. "J.J. (Marcus) or T.J. (Gurley) will start with Brison (Williams at safety). Vic (Hampton) and Jimmy (Legree) will start at corner," said Ward. J.T. Surratt is "probable" according to Ward.
Like every team, Tennessee's offense will present its own challenges. "They spread the field," said defensive coordinator Lorenzo Ward. "They do a good job running the zone play, but they do a good job spreading the field and throwing the football. You have to play from sideline to sideline. This team is going to spread it out a lot so we're going to have to defend the pass, as well as the run, but we're probably going to see more pass."
Each opponent has had a game play to negate defensive end Jadeveon Clowney, usually with two or three players assigned to block him. "I'm sure everybody will do something different," noted Ward. "Why would I think Tennessee would not do it? They're going to chip him with a back or put a tight end on him, so I think everybody will do it."
The Gamecocks will have their usual walk-thru at Williams-Brice Stadium on Friday before departing for Knoxville.
Saturday's game is set for Noon ET at Neyland Stadium (102,455) in Knoxville. The game will be televised by ESPN, with Dave Pasch and Brian Griese in the booth and Tom Luginbill on the sidelines.