Group Launches Web Site for Strong Mayor Petition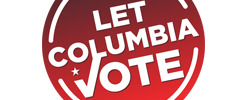 COLUMBIA, S.C. (WOLO)– A petition drive is underway to change the way Columbia is governed.  The group "Let Columbia Vote" has launched a web-site that allows residents to sign a petition that would put a strong-mayor referendum on the city's ballots in November.
 
  Mayor Steve Benjamin has proposed changing Columbia from a weak-mayor to a strong-mayor form of government.
  Under the current system, the mayor has the same amount of executive power as each member of the city council.
  To learn more go to letcolumbiavote.com