USC Baseball Releases 2014 Schedule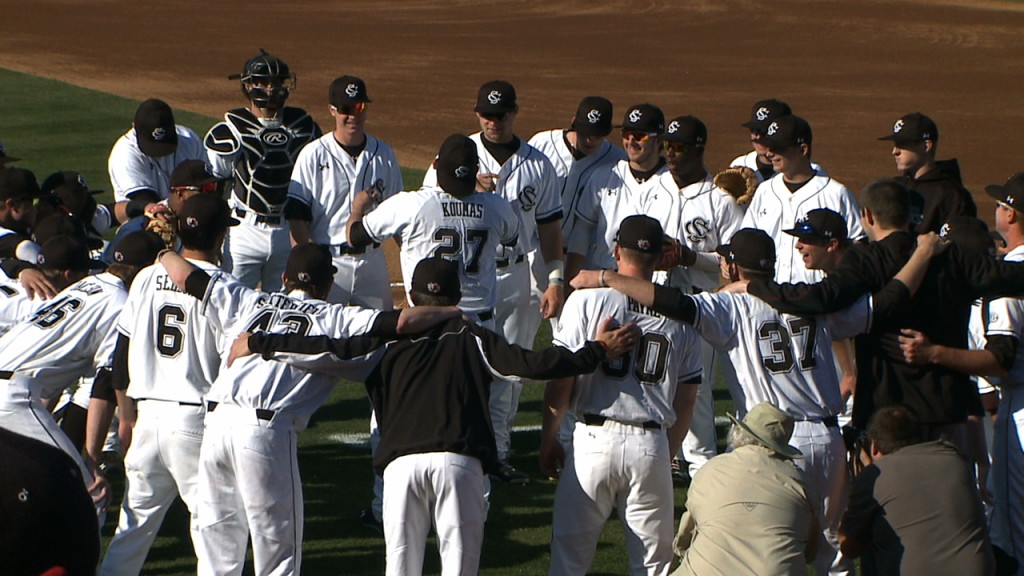 COLUMBIA, S.C. (USC SID) — The South Carolina baseball team announced today a 2014 schedule that features 37 home games at Carolina Stadium as well as 19 games against 2013 NCAA Tournament teams.  The Gamecocks open the season on Friday, Feb. 14, hosting a three-game series vs. Bucknell.
South Carolina and Clemson will meet in a unique three-game setting for a fifth consecutive year.  The series opens in Columbia on Friday, Feb. 28, with first pitch at 7 p.m.  Saturday shifts to the Reedy River Rivalry game at Fluor Field, home of the Greenville Drive, a minor league affiliate of the Boston Red Sox.  The series finale concludes on Sunday at Clemson.
South Carolina's 30-game SEC slate begins Friday, Mar. 14, with Carolina hosting Ole Miss in the Rebels' first visit to Columbia since the 2010 regular season.  South Carolina also hosts Tennessee (Mar. 28-Mar. 30), Florida (April 11-13), Alabama (April 25-27) and Missouri (May 9-11).  SEC three-game series opponents on the road are Kentucky (Mar. 21-23), Arkansas (April 4-6), Auburn (April 18-20), Georgia (May 2-4) and Vanderbilt (May 15-17).
Additional in-state contests for the Gamecocks include Charleston Southern, Coastal Carolina, College of Charleston, Furman, Presbyterian, The Citadel, USC Upstate and Wofford.
The Gamecocks have played every program on the 2014 schedule at least once.  South Carolina will meet Bucknell for the first time since the 2010 NCAA Regional opener that was a 9-5 South Carolina victory, the first postseason win for the Gamecocks on the way to the 2010 NCAA Division I Baseball Championship.  South Carolina will follow that series up with a three-game set against Eastern Kentucky.  The Gamecocks defeated the Colonels 11-3 on Mar. 21, 1982, at Sarge Frye Field in the only previous contest.  Stetson will come to South Carolina in early March for a pair of midweek games, the first appearance for the Hatters in Columbia since the 2011 NCAA Regional.  South Carolina defeated Stetson twice to advance to the NCAA Super Regional en route to a second straight national title.  Brown is South Carolina's final three-game series tune-up before SEC play.  South Carolina swept Brown in three games in 2010 at Carolina Stadium.  Appalachian State and Davidson round out the non-conference opponents for 2014.
The Gamecocks return seven position starters from a year ago.  Returnees include junior infielder/outfielder Joey Pankake (.311-11-42), junior catcher Grayson Greiner (.298-4-38), junior outfielder Connor Bright (.288-4-22), junior outfielder Tanner English (.283-1-25), sophomore infielder Max Schrock (.282-6-39), junior first baseman Kyle Martin (.288-2-10) and senior designated hitter Brison Celek (.307-1-18).  Also back from last year's weekend rotation is junior left-hander Jordan Montgomery (6-1, 1.48 ERA) and freshman left-hander Jack Wynkoop (7-3, 3.09 ERA).  Greiner played this past summer for Team USA and was a 2013 second-team All-SEC selection.  Schrock and Wynkoop both earned Freshman All-America honors.
——————————
—
South Carolina won the NCAA Division I Baseball Championship in 2010 and 2011 at the College World Series. South Carolina has 11 College World Series appearances, including six in the last 12 years.  South Carolina is the only school with 200 or more wins in the last four years (2010 to the present) with a 201-70 record, and the Gamecocks own the second-highest win total in the nation in the last 14 years (2000 to the present) with a 669-271 record. South Carolina is one of five schools to appear in the NCAA Regional every season in the last 14 years, including 11 NCAA Super Regional appearances in that span, one of only two schools to accomplish the feat.
2014 South Carolina Baseball Schedule
DATE            OPPONENT                        SITE                    TIME
FEBRUARY
        14      Bucknell                                Columbia, S.C.          3 p.m.
        15      Bucknell                                Columbia, S.C.          1:30 p.m.
        16      Bucknell                                Columbia, S.C.          1:30 p.m.
        21      Eastern Kentucky                        Columbia, S.C.          3 p.m.
        22      Eastern Kentucky                        Columbia, S.C.          4 p.m.
        23      Eastern Kentucky                        Columbia, S.C.          1:30 p.m.
        28      Clemson                         Columbia, S.C.          7 p.m.
MARCH
        1       vs. Clemson                     Greenville, S.C. (Fluor Field)  TBA
        2       at Clemson                      Clemson, S.C.           4 p.m.
        4       Stetson                         Columbia, S.C.          7 p.m.
        5       Stetson                         Columbia, S.C.          7 p.m.
        7       Brown                           Columbia, S.C.          7 p.m.
        8       Brown                           Columbia, S.C.          4 p.m.
        9       Brown                           Columbia, S.C.          1:30 p.m.
        11      Furman                          Columbia, S.C.          7 p.m.
        14      Ole Miss*                               Columbia, S.C.          7 p.m.
        15      Ole Miss*                               Columbia, S.C.          4 p.m.
        16      Ole Miss*                               Columbia, S.C.          1:30 p.m.
        18      The Citadel                     Charleston, S.C.                7 p.m.
        21      at Kentucky*                    Lexington, Ky.          TBA
        22      at Kentucky*                    Lexington, Ky.          TBA
        23      at Kentucky*                    Lexington, Ky.          TBA
        25      College of Charleston           Columbia, S.C.          7 p.m.
        26      Coastal Carolina                        Columbia, S.C.          7 p.m.
        28      Tennessee*                      Columbia, S.C.          7 p.m.
        29      Tennessee*                      Columbia, S.C.          4 p.m.
        30      Tennessee*                      Columbia, S.C.          1:30 p.m.
APRIL
        1       Appalachian State                       Columbia, S.C.          7 p.m.
        2       Presbyterian                    Columbia, S.C.          7 p.m.
        4       at Arkansas*                    Fayetteville, Ark.              TBA
        5       at Arkansas*                    Fayetteville, Ark.              TBA
      6       at Arkansas*                    Fayetteville, Ark.              TBA
        8       at Furman                               Greenville, S.C. (Fluor Field)  7 p.m.
        11      Florida*                                Columbia, S.C.          7 p.m.
        12      Florida*                                Columbia, S.C.          4 p.m.
        13      Florida*                                Columbia, S.C.          1:30 p.m.
        15      Charleston Southern                     Columbia, S.C.          7 p.m.
        18      at Auburn*                      Auburn, Ala.            7 p.m.
        19      at Auburn*                      Auburn, Ala.            4 p.m.
        20      at Auburn*                      Auburn, Ala.            2 p.m.
        22      Davidson                                Columbia, S.C.          7 p.m.
        23      USC Upstate                     Columbia, S.C.          7 p.m.
        25      Alabama*                                Columbia, S.C.          7 p.m.
        26      Alabama*                                Columbia, S.C.          4 p.m.
        27      Alabama*                                Columbia, S.C.          1:30 p.m.
MAY
        2       at Georgia*                     Athens, Ga.             7 p.m.
        3       at Georgia*                     Athens, Ga.             1 p.m.
4       at Georgia*                     Athens, Ga.             1 p.m.
        7       Wofford                         Columbia, S.C.          7 p.m.
        9       Missouri*                               Columbia, S.C.          7 p.m.
        10      Missouri*                               Columbia, S.C.          4 p.m.
        11      Missouri*                             Columbia, S.C.          1:30 p.m.
        13      The Citadel                     Columbia, S.C.          7 p.m.
        15      at Vanderbilt*                  Nashville, Tenn.                7:30 p.m.
        16      at Vanderbilt*                  Nashville, Tenn.                7:30 p.m.
        17      at Vanderbilt*                  Nashville, Tenn.                3 p.m.
        20-25   at SEC Tournament                       Hoover, Ala.
JUNE
        May 30-2        NCAA Regionals                  TBA                     TBA
        6-9     NCAA Super Regionals            TBA                     TBA
        14-25   College World Series                    Omaha, Neb.             TBA
All times Eastern.  Dates and times subject to change   * denotes SEC game