Body of missing man found in Clarendon County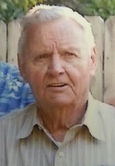 COLUMBIA, S.C. (AP) — Authorities have found the body of an 84-year-old Columbia man who was reported missing last week.
Richland County Sheriff's spokesman Curtis Wilson says Clarendon County officers investigating a report of a disabled vehicle found Jerry Glenn Helms' body Tuesday.
Wilson says Helms' body was found about 300 yards from a van, which had apparently run out of gas. Wilson says foul play is not suspected, and authorities have said the man had health issues including Alzheimer's and dementia.
Helms was last seen Saturday morning leaving his home to run errands. Relatives said Helms had talked about going to visit friends in North Carolina. His wife of 58 years died earlier this month.