Family, Friends of Victim Address Five Points Shooting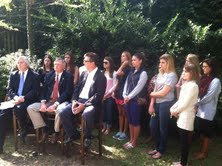 Columbia, SC (WOLO)–   Family and friends of Five Points shooting victim, 18-year-old Martha Childress addressed the media for the first time Monday.
Police say Childress, a Freshman at USC,  was shot while waiting for a taxi at the Five Points fountain around 2:30 in the morning on October 13th.
21 year old Michael Juan Smith has been charged in the shooting.
Police say Childress was not the  intended target.
  Monday, Childress' step-father said that Martha is with her mother at a facility in Atlanta.