Gamecocks Climb In Polls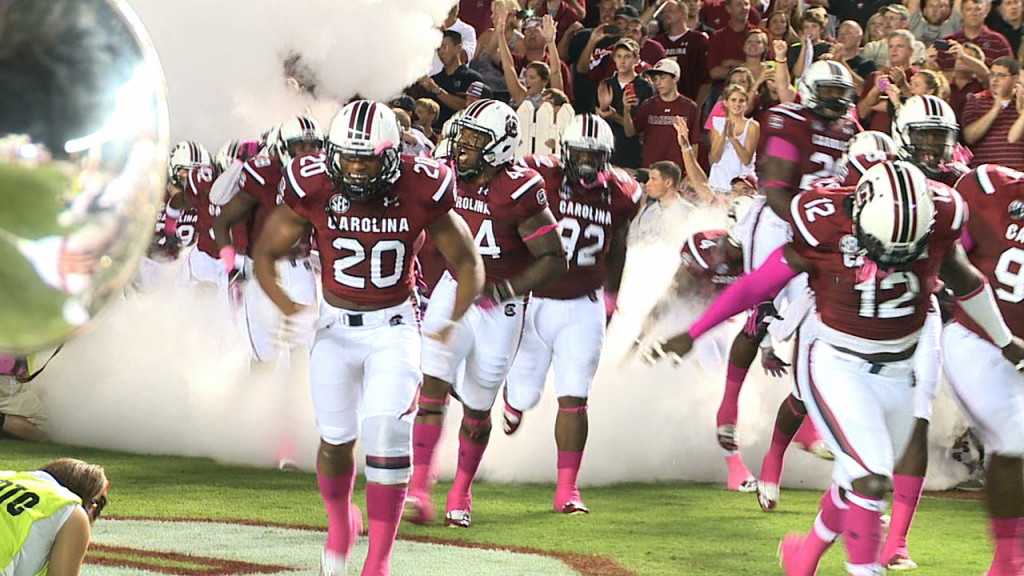 COLUMBIA, S.C. (USC SID) – The University of South Carolina football team climbed two spots in the Associated Press poll to No. 11 and three spots in the USA Today/ESPN Coaches poll to No. 12, as both national polls were released this afternoon.
The Gamecocks have been ranked among the nation's top 25 teams by the A.P. for 59 consecutive polls. They are tied with Stanford for the fifth-longest streak behind Alabama, LSU, Oregon and Oklahoma.
Alabama continues to lead both polls, followed by Florida State, Ohio State, Baylor and Stanford.
AP Top 25
RK      TEAM    RECORD  PTS
1       Alabama (56)    9-0     1472
2       Florida State (3)       9-0     1418
3       Ohio State      9-0     1310
4       Baylor  8-0     1303
5       Stanford        8-1     1272
6       Oregon  8-1     1139
7       Auburn  9-1     1109
8       Clemson 8-1     1049
9       Missouri        9-1     1012
10      Texas A&M       8-2     909
11      South Carolina  7-2     857
12      Oklahoma State  8-1     780
13      UCLA    7-2     669
14      Michigan State  8-1     633
15      UCF     7-1     596
16      Fresno State    9-0     588
17      Wisconsin       7-2     503
18      LSU     7-3     470
19      Louisville      8-1     467
20      Northern Illinois       9-0     396
21      Arizona State   7-2     362
22      Oklahoma        7-2     285
23      Texas   7-2     185
24      Miami (FL)      7-2     121
25      Georgia 6-3     78
USA Today Poll
RK      TEAM    RECORD  PTS
1       Alabama (58)    9-0     1546
2       Florida State (4)       9-0     1485
3       Ohio State      9-0     1401
4       Baylor  8-0     1376
5       Stanford        8-1     1307
6       Clemson 8-1     1164
7       Oregon  8-1     1162
8       Missouri        9-1     1083
9       Auburn  9-1     1069
10      Oklahoma State  8-1     965
11      Texas A&M       8-2     898
12      South Carolina  7-2     830
13      Louisville      8-1     653
14      Fresno State    9-0     646
15      UCLA    7-2     641
16      Michigan State  8-1     620
17      Oklahoma        7-2     510
18      LSU     7-3     476
19      UCF     7-1     468
20      Wisconsin       7-2     460
21      Northern Illinois       9-0     445
22      Arizona State   7-2     262
23      Miami (FL)      7-2     228
24      Texas   7-2     176
25      Minnesota       8-2     91