Gamecocks Host CofC Thursday At Colonial Life Arena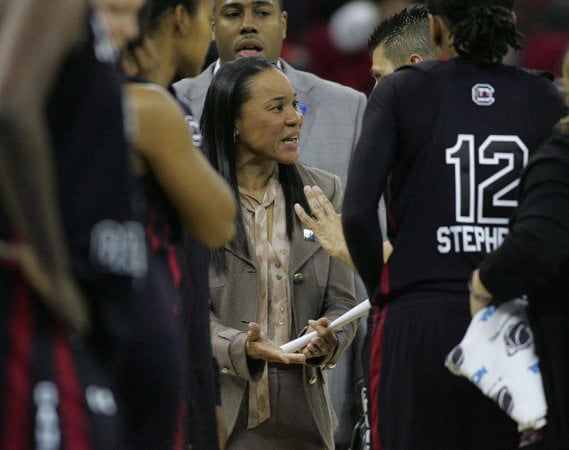 COLUMBIA, S.C. (USC SID) — No. 21/17 South Carolina opens the second half of its four-game home stand Thursday night against College of Charleston. Tipoff at Colonial Life Arena is set for 8 p.m. for a game that will be air live on Fox Sports South and Fox Sports Carolinas. The Gamecocks are coming off two impressive offensive performances that saw them inch up in the polls this week. College of Charleston brings a veteran team to Columbia to face the Gamecocks, who the Cougars have not defeated in the last eight meetings.
Game Information
Opponent: College of Charleston (1-1)
Date: Thursday, November 14, 2013, 8 p.m.
Site: Columbia, S.C.
Arena: Colonial Life Arena (18,000)
Tickets: $7 adult, $4 youth (17 and under)
TV: Fox Sports South/Fox Sports Carolinas (Jenn Hildreth, play-by-play; Debbie Antonelli, analyst)
Radio: WNKT 107.5 FM (Brad Muller); GamecocksOnline.com (Free)
Live Stats: GamecocksOnline.com
Series History: SC leads 14-9
South Carolina Notables
*    With nine offensive rebounds through two games this season, junior Aleighsa Welch has moved into ninth in school history with 244 career offensive boards in just 68 games. She is nine away from eighth place.
*    Through two games this season, South Carolina leads the SEC in field goal percentage and is second in field goal percentage defense. The Gamecocks also lead the league in rebounding margin and assist-to-turnover ratio.
*    South Carolina's 60.9 percent field goal accuracy against Charleston Southern was the second highest by any team in Colonial Life Arena history, while the Buccaneers' 18.5 percent was the fifth lowest ever shot in the building.
*    Alaina Coates' scoring output against Charleston Southern was the first 20-point game by a freshman in her debut game since Kelsey Bone scored 22 in an overtime victory at Charlotte on Nov. 16, 2009.
Notes
A South Carolina Win Would…
*    Give the Gamecocks a 3-0 record for the third-straight season. Last season, South Carolina sprinted out to a 10-0 start.
*    Be the Gamecocks' eighth straight over College of Charleston.
*    Bring head coach Dawn Staley to 95 wins at South Carolina, putting her six behind Pam Parsons (1978-82) for third all-time in Gamecock women's basketball history.
By the Numbers
.532    Field goal percentage this season for the Gamecocks, which leads the SEC
2       Games in the Dawn Staley era in which South Carolina has scored at least 90 points, highlighted by the 99-point outing against Charleston Southern in the season opener.
25      Assists handed out by the Gamecocks on 39 made field goals in win over Charleston Southern
37.0    Points per game the South Carolina defense has allowed through two games this season – the Gamecocks have ranked among the nation's top five in scoring defense each of the last two seasons
46.5    Point per game by which South Carolina has out-scored its opponents through two games this season – tops in the SEC
64.2    Percent of field goals made this season that have been assisted
College of Charleston Series Notes
These two in-state rivals have met 23 times since the series began in the 1974-75 season. The Gamecocks hold a 14-9 edge over the Cougars, including an 8-0 record in home games (location is not known for games prior to 1976-77 season). In the most recent meeting, South Carolina posted a 59-40 win over College of Charleston on Nov. 23, 2011, in Colonial Life Arena. Three current Gamecocks saw action in that game with Tina Roy scoring nine points and Aleighsa Welch pulling down nine rebounds. Elem Ibiam added four points and four rebounds to the effort in 11 minutes on the court. South Carolina held just a one-point lead at the half before pushing past CofC in the second thanks in large part to 18 points off 14 Cougar turnovers and 19 points off 14 offensive rebounds in the period. The Cougars' last win over the Gamecocks came in a 66-63 contest on Dec. 7, 1991 in Charleston.
Scouting the Bulldogs
CofC split its two games last weekend, scoring a 21- point win over Kennesaw State at home before suffering an 18-point loss at Winthrop. The Cougars started four seniors and a redshirt junior in both games last weekend. Senior guard Alyssa Frye led the offense on opening weekend with 17.0 points per game behind 7-of-11 shooting from 3-point range. Senior guard Afreyea Tolbert added 12.5 points per game to her team-high 9.5 rebounds per outing. Senior guard Jillian Brown directed the offense well with 17 assists over the two games. Freshman Jasmine Carter made a strong debut, averaging 6.0 points and 9.0 rebounds in her first two outings. Eight of her 18 total rebounds came on the offensive end. As a team, the Cougars are scoring 68.0 points per game on 34.6 percent shooting, including 31.3 percent from 3-point range, and have out-rebounded their opponents by 3.5 boards per game.
Post Always Delivers
South Carolina has reaped the rewards of this season's new offensive strategy as post play has dominated the box score for the Gamecocks. The inside play of juniors Aleighsa Welch and Elem Ibiam and freshman Alaina Coates has yielded better field goal percentages and higher assist numbers. Through the first two games, the trio has accounted for 64.9 percent of the team's scoring (89 of 167 points) and is shooting a combined 67.9 percent from the field. South Carolina has score 108 of its combined 167 points this season in the paint, including 70 of the 99 scored against Charleston Southern in the opener. The three posts are the team's top scorers – Coates 16.0 ppg, Welch 14.5 ppg, Ibiam 14.0 ppg – with Tiffany Mitchell the only guard averaging double digits so far this season. As a team, South Carolina shot over 60.0 percent for the first time in the Staley era with 60.9 percent accuracy in the opener against Charleston Southern. The Gamecock guards have been thriving in the assist category as well. Four different Gamecocks have handed out five or more assists in a game, headlined by Tina Roy's career-high seven against Charleston Southern. Sophomore Asia Dozier tied her career high with five in that game, and junior transfer Olivia Gaines wasted no time setting her career mark at five that night as well. Against Lousiana Tech, sophomore Khadijah Sessions handed out a career-high five assists to round out the quartet. The team's 25 assists against Charleston Southern was a Staley-era record
The Gift of Glass
The Gamecocks have been a solid rebounding team under head coach Dawn Staley, but it was a team effort by an undersized roster in the past. This season, South Carolina is out-rebounding its opponents by 19.5 boards per game behind the strength of the trio of Alaina Coates, Elem Ibiam and Aleighsa Welch. Welch leads the way with 9.0 boards per game to rank sixth in the SEC. Coates is close behind with 8.5 per game, slotting her in at 11th overall and third among SEC freshmen. Ibiam rounds out the group with 7.0 per contest. South Carolina's 19.0 offensive rebounds per game rank fourth in the league, and the Gamecocks have turned them into 21.0 second-chance points per game.