Gamecocks Move Up In AP, Coaches Poll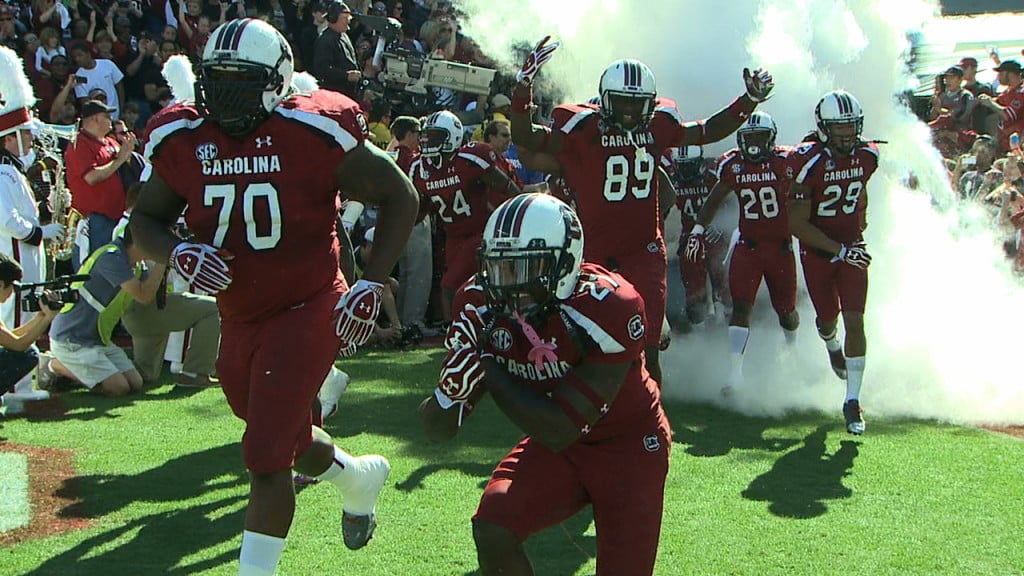 COLUMBIA, S.C. (October 27, 2013) – The University of South Carolina football team moved up several spots in the weekly national rankings announced today. The Gamecocks (6-2, 4-2 SEC) are 14th in this week's Associated Press poll and 16th in the latest USA Today/ESPN Coaches poll.
The Gamecocks were ranked 20th in both polls before pulling out a dramatic 27-24 double-overtime win at No. 5/7 Missouri on Saturday night. The Gamecocks rallied from a 17-0 fourth quarter deficit to record the win and keep their SEC Eastern Division title hopes alive. Missouri (7-1, 3-1 SEC) dropped to 10th in both polls following the loss, but remain atop the SEC Eastern Division.
The top five teams are the same in both national polls, with Alabama (8-0) ranked No. 1, ahead of Oregon (8-0), Florida State (7-0), Ohio State (8-0) and Baylor (7-0).
The Gamecocks have been ranked for a school-record 57 consecutive polls, which ties Stanford for the fifth-longest current streak in the country, behind only Alabama, LSU, Oregon and Oklahoma.
The Gamecocks return to action on Saturday, November 2, when they host the Mississippi State Bulldogs (4-3, 1-2 SEC) in a 12:21 p.m. ET kick at Williams-Brice Stadium. SEC TV will have the telecast with Dave Neal and Andre Ware in the booth and Cara Capuano on the sidelines for the annual Homecoming game.
AP Top 25
RK      TEAM    RECORD  PTS
1       Alabama (55)    8-0     1495
2       Oregon (3)      8-0     1432
3       Florida State (2)       7-0     1390
4       Ohio State      8-0     1317
5       Baylor  7-0     1223
6       Stanford        7-1     1189
7       Miami (FL)      7-0     1149
8       Auburn  7-1     1022
9       Clemson 7-1     1007
10      Missouri        7-1     873
11      LSU     7-2     818
12      Texas A&M       6-2     811
13      Oklahoma        7-1     791
14      South Carolina  6-2     701
15      Texas Tech      7-1     579
16      Fresno State    7-0     510
17      UCLA    5-2     489
18      Oklahoma State  6-1     483
19      UCF     6-1     464
20      Louisville      7-1     417
21      Northern Illinois       8-0     290
22      Wisconsin       5-2     262
23      Michigan        6-1     199
24      Michigan State  7-1     166
25      Arizona State   5-2     133
USA Today Poll
RK      TEAM    RECORD  PTS
1       Alabama (56)    8-0     1542
2       Oregon (6)      8-0     1483
3       Florida State   7-0     1419
4       Ohio State      8-0     1375
5       Baylor  7-0     1293
6       Miami (FL)      7-0     1190
7       Stanford        7-1     1182
8       Clemson 7-1     1064
9       Oklahoma        7-1     933
10      Missouri        7-1     834
11      Auburn  7-1     804
12      Oklahoma State  6-1     803
13      LSU     7-2     802
14      Texas A&M       6-2     758
15      Texas Tech      7-1     673
16      South Carolina  6-2     627
17      Louisville      7-1     579
18      Fresno State    7-0     542
19      UCLA    5-2     432
20      Northern Illinois       8-0     373
21      Michigan        6-1     309
22      UCF     6-1     300
23      Wisconsin       5-2     253
24      Michigan State  7-1     237
25      Notre Dame      6-2     83