Haley to receive manufacturing award for jobs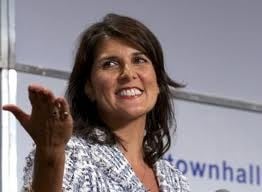 COLUMBIA, S.C. (AP) — Gov. Nikki Haley is being recognized for bringing manufacturing jobs to South Carolina.
During a dinner Thursday in Spartanburg, Haley's office says she is receiving the 2013 Roger Milliken Defender Of Manufacturing Award from the South Carolina Manufacturers Alliance.
Alliance CEO Lewis Gossett says Haley has been aggressive in recruiting new jobs to the state. Since Haley took office in January 2011, state commerce officials say South Carolina has announced 233 manufacturing expansions and openings.
Officials said those announcements have resulted in 26,000 new jobs and more than $8 billion in capital investment in South Carolina.