Kershaw County deputy dies after heart attack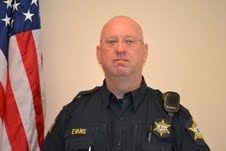 CAMDEN, S.C. (AP) — A Kershaw County deputy has died after suffering a heart attack while directing traffic at a school.
Sheriff Jim Matthew said 50-year-old Deputy Rob Evans died early Wednesday morning at a hospital.
A day earlier, Evans had been directing traffic at Wateree Elementary School when he had a heart attack. Matthews says Evans fell and hit his head.
Two nurses and Lugoff Fire Chief Dennis Ray were all picking up children at the school. Matthew says they helped Evans until paramedics arrived.
Evans was taken to a hospital and died overnight. Matthews says he had been with the department for 14 years and is survived by a wife and two children.