Convicted Williamsburg sheriff asks for sentencing leniency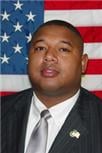 COLUMBIA, S.C. (AP) — The convicted former sheriff of Williamsburg County is asking a judge to sentence him to less than the three years recommended by federal officials because he has no criminal record, cooperated with authorities and is being treated for depression and anxiety.
An attorney for Michael Johnson filed paperwork this week asking for leniency when he is sentenced Wednesday morning.
Johnson was convicted of mail fraud in September. Federal officials recommend a sentence of 30 months to 37 months.
But Johnson's lawyer says he was raised by a single mother who was abused by a boyfriend and rose from poverty to become Williamsburg County sheriff in 2010.
Prosecutors say Johnson created fake police reports so people could claim their identities were stolen to get out of credit card debt.