Tim Scott rolls out town hall schedule with GOP hopefuls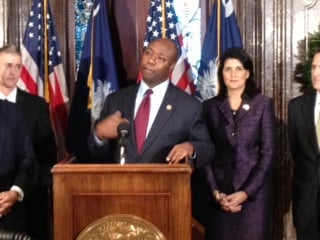 COLUMBIA, S.C. (AP) — South Carolina's junior senator is offering voters a chance to get to know some of the Republican presidential candidates.
Sen. Tim Scott announced Monday the schedule that includes town hall meetings with 10 of the announced 2016 hopefuls.
Starting August 20, Scott is hosting gatherings with Jeb Bush, Ben Carson, Ted Cruz, Lindsey Graham, Bobby Jindal, Rand Paul, Rick Perry, Marco Rubio, Rick Santorum and Scott Walker.
Scott held a town hall with Mike Huckabee earlier this year, and Scott's office says it will keep working to schedule dates with the other candidates. So far, the schedule runs through early December.
Exact times and locations for the meetings will be released closer to the day of the event. People can RSVP and submit questions at www.TimsTownHalls.com .