Mulvaney joins GOP candidate Paul on South Carolina tour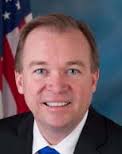 COLUMBIA, S.C. (AP) — Republican presidential candidate Rand Paul says his most recent endorsement shows he's serious about competing for the conservative vote.
Paul told The Associated Press Wednesday that U.S. Rep. Mick Mulvaney's backing gives him more credibility among those voters.
The Kentucky senator and Mulvaney teamed up Wednesday for a campaign swing, starting with a meeting at an American Legion post in Rock Hill.
Later in the day, the duo appeared before more than 600 at the University of South Carolina's Russell House student union. A late day event was also planned at a brewery in Spartanburg.
Mulvaney announced his support for Paul earlier this week, saying he thinks Republican voters are ready to support a candidate who doesn't agree with the party's establishment and is a stronger supporter of less government.