Clemson Cruises Past Pitt, 73-60
By Associated Press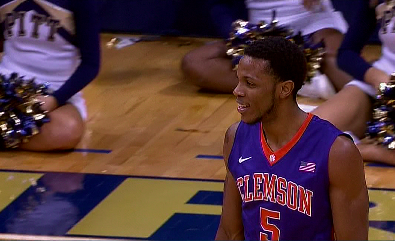 GREENVILLE, S.C. (AP) — Jaron Blossomgame scored 22 points as Clemson opened a double-digit lead in the opening half to win for the sixth time in seven games with a 73-60 victory over Pittsburgh on Wednesday night.
Blossomgame became the first Clemson player to score at least 20 points in three straight games since K.J. McDaniels did it early in the 2013-14 season. He also helped the Tigers (13-7, 6-2 Atlantic Coast Conference) keep pace near the top of the league standings with only ACC leader North Carolina having more conference wins.
Clemson continued its surprising conference run, adding Pitt (16-4, 5-3) to the list of ACC powers this season alongside Louisville, Duke and Miami.
The Tigers built a large lead with a 17-5 run in the opening half. They extended the margin to as many as 18 in the second half.
Michael Young tied his season high with 25 points for Pittsburgh.
Avry Holmes and Jordan Roper had 13 points apiece for Clemson.
Young was the only Pittsburgh player in double figures.
It looked like the Tigers might cruise home in the second half after Sidy Djitte's foul shot put them up 52-34 with 14:25 to play. But Pitt used a 9-0 burst to tighten things.
Clemson answered back with an 11-5 run — Blossomgame had two baskets in the stretch — to restore its large lead and keep control.
The Panthers did not get closer than 10 points the rest of the way.
Pittsburgh and Clemson were both looking to stay near the top of the ACC standings in a thick pack of teams a game or two behind league-leader North Carolina.
It was the Tigers who broke away from a tie game with a 17-5 run midway through the opening half to lead 29-17. The Panthers went through a cold stretch where they hit only two of nine field goals to fall behind.
Clemson kept the pressure on with its inside play and perfect foul shooting, making all seven of its shots from the line the first 20 minutes to take a 40-26 lead into the break.
—
TIP-INS
Pittsburgh: The Panthers were held to their second-lowest halftime total of the season at 26 points. They've lost the three previous games they scored that few points in the opening period.
Clemson: The Tigers are on a free-throw streak unmatched in school history. They came in having made 29 straight foul shots, then went 7 of 7 from the line in the opening half against Pittsburgh. The run ended with Sidy Djitte's miss with 14:25 remaining.
UP NEXT
Pittsburgh plays host to Virginia Tech on Sunday night.
Clemson plays at Florida State on Saturday.