Dambaugh Earns SEC Weekly Honor
By USC SID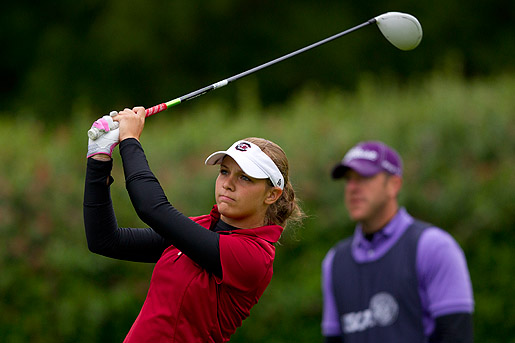 COLUMBIA, S.C. (USC SID) — South Carolina women's golf standout Katelyn Dambaugh has been named the SEC Women's Golfer of the Week, the league announced on Wednesday afternoon. The award marks the fourth conference weekly honor for the junior, who placed ninth at the Wildcat Invitational on Tuesday.
Dambaugh's ninth-place showing this week was her fourth-straight top-10 finish for the 32nd-ranked Gamecocks. The Third-Team Preseason All-American opened the Wildcat Invitational with her ninth round of par or better this season, a 3-under 69, and she finished the 54-hole event with a 216 (E).
Dambaugh, South Carolina's current career scoring average leader (73.25), is on pace for a historic season. The Goose Creek, S.C., native has notched three top-three finishes this season, and her 71.95 stroke average currently stands as the lowest single-season scoring mark in program history. She posted South Carolina's low 54-hole score with a 207 (-9) at the 2015 ANNIKA Intercollegiate, and she has finished first among Gamecocks in six of their seven tournaments this season.
South Carolina resumes play this spring at the Bryan Park Intercollegiate (Apr. 1-3) in Greensboro, N.C. The Gamecocks, who earned runner-up honors at the event in 2014, will be making their 13th appearance at the tournament.