Clemson Finishes Sixth at ACC Women's Golf Tournament
By: CU SID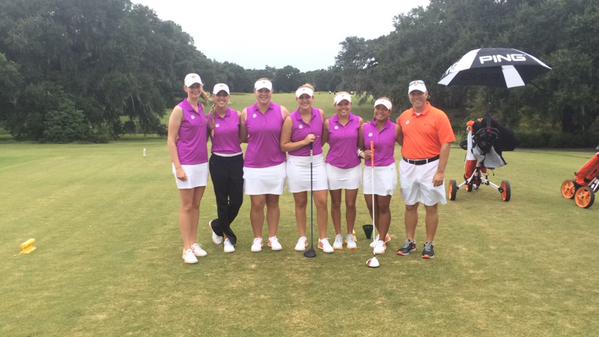 Greensboro, N.C. (CU SID) — Lauren Stephenson shot an even par 72 on Sunday, while Alice Hewson, Marisa Messana and Sydney Legacy all finished tied for 19th for the 54-hole tournament, leading Clemson to a sixth-place finish at the 2016 ACC Women's Golf Tournament at Sedgefield Country Club in Greensboro, N.C.
The sixth-place finish in the 12-team field was the best for the young Clemson program in just its third year of existence. J.T. Horton's Tigers finished ahead of top 50 teams Louisville (39th), Miami (41st), Florida State (19th) and Notre Dame (37th). With the sixth place finish and now record of 79-57-2 in its nine tournaments, the Tigers expect to receive an NCAA bid in two weeks.
"This was a good week," said Horton. "I was especially proud of the way we came back on the back nine each round. That was the case today as we played the front nine at eight over, then played the back nine at one over. I was just impressed with our resilience the entire tournament.
"We have played well the last three events (3rd of 18 at Briar's Creek, 5th of 14 at Clemson Invitational and sixth of 12 at ACC Tournament). This has been a close nit team and we have confidence. All the ladies made a contribution this weekend."
Stephenson led the way with an even par 72 on Sunday, her best round of the tournament. The freshman from Lexington, S.C. had consecutive birdies on holes 10, 11 and 12 to get the team off to a great start on the back nine. The distance of her three birdies on those holes totaled just seven feet. "I had confidence going into the 10th hole because I had made a birdie there on Saturday," said Stephenson. "I hit a three-wood close and then had a two putt tap in for a birdie.
"We are in a good place as a team right now. We played well, but we can play better. We have confidence looking forward to the NCAAs." Stephenson finished 29th in the field of 60 golfers with a 226 score.
Hewson shot her second consecutive round of one-over-par 73 on Sunday. She was three-over-par going to the 15th hole, but she made a two-putt birdie on that par five, then made a six-footer for birdie on the par three 16th hole. She closed with a pair of easy pars to finish in 19th place overall with a 223 score.
Messana had another consistent round with a three-over-par 75. She made just one birdie, but it was on the 18th hole where she hit her third shot to within a foot of the pin. Like Hewson, the sophomore from Fort Lauderdale finished with a 54-hole score of 223, seven over par. Messana had rounds of 73-75-75 and was the only Tiger to shoot 75 or better in all three rounds. She is now 10-over-par for six career rounds at Sedgefield Country Club in ACC Tournament play, and her 73.67 stroke average in the ACC Tournament is the best in Clemson history.
Legacy had a 77 on Sunday and also finished with a 223 score for her three rounds. The sophomore had shot 72-74 for her first two rounds, best among Clemson golfers for the first 36 holes. She finished the tournament with a birdie on the 18th hole.
Eighteenth ranked Virginia won the ACC Tournament with an 855 score, nine-under-par and 11 shots ahead of second place Wake Forest. Duke, ranked third in the nation, finished third this weekend with an 883 score.
Clemson's next action is expected to be at the NCAA Regional Tournament May 5-7. The four regional sites are Stanford, Calif., Baton Rouge, La., Birmingham, Ala,., or Bryan, Tex.
ACC Tournament
Team Results
April 15-17, 2016
Virginia 855, 2. Wake Forest 866, 3. Duke 883, 4. North Carolina 884, 5. NC State 886, 6. Clemson 894, 7. Louisville 898, 8. Miami (FL), 899, 9. Florida State 901, 10. Notre Dame 904, 11. Boston College 923, 12. Virginia Tech 952
Clemson Individuals
Alice Hewson 223, 19. Marisa Messana 223, 19. Sydney Legacy 223, 29. Lauren Stephenson 226, 48. Jessica Hoang 234.