Walker Course Ranked No. 11 in Nation by Golfweek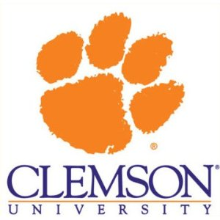 Clemson, S.C.—Clemson University's Walker Golf Course has been ranked among the top 15 college golf courses in the nation by Golfweek Magazine for the third straight year. The facility was ranked 11 th best this year by the staff of Golfweek.
The Clemson course is rated second best in the ACC and second best in the Southeast.
The Course at Yale in New Haven, Conn. was ranked first, while the course at Williams College in Massachusetts was rated second. Other ACC schools with university courses ranked in the top 20 were Virginia Tech (10), Notre Dame (14 th ), and Duke (15th ).
The Walker Course, which opened in 1995, was ranked 10 th nationally in 2015 and 14 th in 2014.
Golfweek's Best Campus Courses, 2016-17:
Rk School Course City
1. Yale The Course at Yale New Haven, Conn.
2. Williams Taconic Golf Club Williamstown, Mass.
3. Wisconsin University Ridge Verona, Wis.
4. Texas Tech Rawls Course Lubbock, Tex
5. Massachusetts The Orchards South Hadley, Mass.
6. Washington State Palouse Ridge Pullman, Wash.
7. Stanford University Course Stanford, Calif.
8. Georgia University Course Athens, Ga.
9. Ohio State Scarlet Course Columbus, Ohio
10. Virginia Tech Pete Dye River Course Blacksburg, Va.
11. Clemson Walker Course Clemson, S.C.
12. Michigan University Course Ann Arbor, Mich.
13. Duke University Course Durham, N.C.
14. Purdue Birck Golf Complex West Lafayette, Ind.
15. Notre Dame Warren Course Notre Dame, Ind.
16. Michigan Radrick Farms Ann Arbor, Mich.
17. Furman University Course Greenville, S.C.
18. Oklahoma Jimmie Austin Club Norman, Okla.
19. Vanderbilt Legends Course Nashville, Tenn
20. New Mexico University Course Albuquerque, N.M.