SC sheriff gets zapped by stun gun for good cause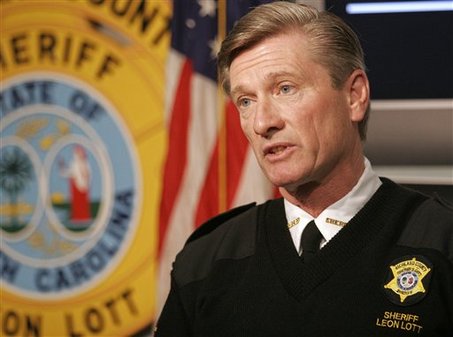 COLUMBIA, S.C. (AP) — Richland County Sheriff Leon Lott raised an additional $2,000 for charity by getting shocked by a stun gun for two seconds.
Lott auctioned off the unique opportunity at the end of his charity golf tournament on Monday.
The owner of the stun gun company Karbon Arms gave the first $1,000, and a local businessman gave an additional $1,000.
Lott says he has been zapped before. He says it was still quite a jolt and he would have fallen to the floor if two of his deputies hadn't held him up.
The auction was part of the Richland County Sheriff's Foundation's annual golf tournament in Columbia.
The foundation helps deputies in need with medical bills or after a tragedy like a fire. It also provides extra equipment for the sheriff's office.