Medical examiner testimony key in Columbia trial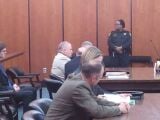 COLUMBIA, S.C. (AP) — A medical examiner in the trial of a Columbia man charged with killing his wife and his colleague in a sports gambling ring says the gun in one of the victim's hands was likely planted after he died.
Dr. Bradley Marcus said Friday that Brian Capnerhurst's left arm was broken with one of the first shots fired at him, and the blow sent him falling backward, which would have forced him to let go of anything he was holding.
That point is critical because Brett Parker's attorney said he killed Capnerhurst in self-defense after Capnerhurst shot Parker's wife in their suburban Columbia home in April 2012.
Parker's attorney suggested the gun could have stayed in Capnerhurst's hand because of spasms that caused his grip to stay firm as he died